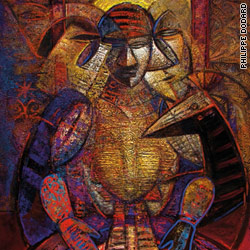 Philippe Dodard couldn't pick up a paint brush in the month following the 2010 earthquake in Haiti. Many of his friends perished as a result of the disaster, and he found himself having no reaction when he would get calls about a new death.
"It's only when I started painting, all of my emotions that were buried inside started coming out," he said.
Dodard, a prominent, internationally recognized Haitian artist who works in Port-au-Prince, is participating in Haiti Art Expo 2010, an event taking place this weekend in Miami, Florida. The collection features works by Dodard and many other Haitian artists, as well as American artists. All of the proceeds from the sales of these works will go toward refugees and artists who have lost their homes because of the earthquake.
Dodard sees art as a way of dealing with and healing from catastrophe. He helped create a program for thousands of children called Plas Timoun, meaning "place for the children," which allows kids to express themselves through artistic activities such as painting, music, and theater, in addition to sports and games. The classrooms are converted buses at two locations in Port-au-Prince and serve children ages 6 to 10.
"I spend most of my time working with the children so that they recover from the disaster using art," he said.
The young artists at Plas Timoun have some of their work displayed at the Smithsonian African Art Museum in Washington, running through January 16. It has been so successful that it will become a traveling exhibit, Dodard said.
Dodard completed the painting above, called "Inner Force," before the earthquake, but its message is highly relevant: finding one's "inner force" - the power or strength that we have inside - that helps us develop spiritually, emotionally and physically, he said.
"After the earthquake, there was so much problems, so much to carry, and still keep on living and still keep on doing your work. And without that force, I don't believe that I could do all that I've done this year," he said.
The work blends spiritual references from Japanese, Haitian, and Indian cultures, and includes Dodard's interests in the traditions of samurai and yoga. The color red represents the spirit of fire, Dodard said, and the texture of the painting gives a "feeling of something vibrating," he said, "the silent vibration of the drum." He tried to capture something magical that goes beyond the shapes themselves, he said.
"It's a kind of communication between the form and my inner self," he said.
Haiti Art Expo 2010 opens at 8:30 p.m. Thursday at Miami's Mosaic Building, and is hosted by Venus Williams (tennis superstar), Andrea Berto (Haitian-born World Welterweight championship boxer), Fabrice and Patrick Tardieu (of the clothing line Bogosse) and Jerry Powers (of PlumTV). It was produced and organized by Michael Capponi and Jeff Feldman, who have both been active in helping relief efforts in Haiti.