Fortunata Kasege was just 22 years old when she arrived in this country 13 years ago from Tanzania.  A newlywed with a baby on the way.  She knew her life was about to change. What she didn't know was how much.  A visit to a prenatal clinic in Houston, Texas, revealed that she was HIV positive.
"I was horrified," she remembers.  "I felt dizzy–and fell out of my chair.  And then I started to cry.  I thought about my unborn baby and I cried for her.  How would she survive?"
But it was 1997, and women in the United States had access to drugs that prevented mother-to-child transmission.  "The nurse told us treatment was available to keep us healthy, and that we could protect our unborn baby from contracting HIV," Kasege says.
That treatment saved Fortunata's life and the life of her unborn child.  "It was hard for me to believe such a miracle was possible," she says.  "At that time in Africa, children who were born from mothers living with HIV became infected as well and died just a few years later."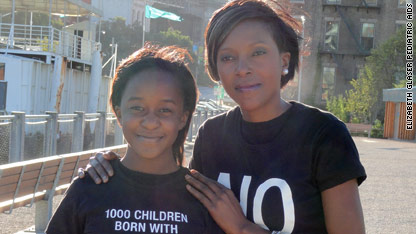 Fortunata's daughter Florida was born healthy—and HIV negative.  She says Florida would have been born HIV positive and she herself would have been dead years ago had they still been in Africa.  "There was not much access to treatment.  Being positive meant you were going to die. It was just a matter of time"
Today, between 215 and 370 newborns contract HIV each year in the U.S., the CDC says. It happens mainly through mother-to-child-transmission either during the pregnancy, through labor and delivery or from breastfeeding. Usually because the mother was not tested early enough in her pregnancy or didn't get preventive treatment at all.  And even though many pregnant women do get screened for HIV, some are tested too late in their pregnancy to take full advantage of prevention, said CDC spokesperson Nikki Mayes.
This year, as the 22nd  World AIDS Day is observed, two United Nations AIDS programs,   UNICEF and UNAIDS are calling for an end to all mother-to-child transmission by  2015.
"Around 370,000 children are born with HIV each year. Each one of these infections is preventable," said Michel Sidibe, executive director, UNAIDS. "We have got to stop mothers from dying and babies from becoming infected with HIV."
It's a goal some AIDS experts say is within reach.
"We have strong evidence that elimination of mother-to-child transmission is achievable," said Dr. Margaret Chan, the World Health Organization's director-general.
Jake Glaser of the  Elizabeth Glaser Pediatric AIDS Foundation, whose mission is to prevent and eradicate pediatric AIDS globally, celebrates  recent progress. "10 years ago, we were reaching 15 percent of the women that needed medication in order to help stop the transmission of the virus to their child. Now we're reaching 45 percent. Isn't that amazing?" Glaser said.
Still, Dr. Anthony Fauci, director of the National Institute of Allergy and Infectious Diseases at the National Institutes of Health says the progress has been encouraging but it's going to take more than five years.
"In this country, such transmission is increasingly rare, and we can do even better with increased HIV testing and appropriate treatment and care of HIV-infected pregnant women," Fauci said. "Globally, the number of children newly infected with HIV fell by 24 percent over the past five years. We need to build on this progress.
"A complete elimination of mother-to-child HIV transmission is unlikely by 2015," he said,  but with essential help offered to women with HIV and their babies he is "confident that the burden of HIV infection among children will continue to decline."
Today Kasege and her daughter are working to make that happen. As an ambassador for the Elizabeth Glaser Pediatric AIDS Foundation, she and her daughter travel across the country sharing their story, being advocates for HIV/AIDS-related causes, and working to eliminate pediatric AIDS.
"I think it's possible as long as the appropriate funding is allocated to the right places," Kasege said. "World leaders need to put that as a priority and put their money where their mouth is.  If it can work for me it can work for other moms. I was already five months pregnant and it worked. So it's possible and five years is plenty."