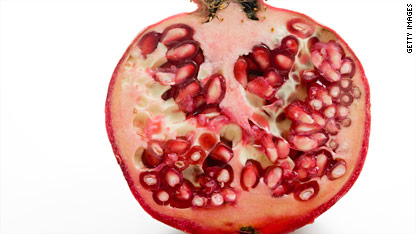 After 13 years on the same Point system, Weight Watchers introduced an overhaul of its weight-loss program Monday, saying more has become known about the science behind weight loss.
Weight Watchers assigns "Points" to food, based on calories. In its new PointsPlus system, fruits and vegetables will carry zero Points; the program will now calculate Points based on macronutrients such as proteins and carbohydrates instead of relying solely on calories, fat and fiber.
Under the old Weight Watchers Points, a breakfast consisting of a croissant and butter would've had the same Points value as a breakfast of toast, ham and eggs as long as it contained the same number of calories.  Now, the croissant would carry seven Points and the toast, ham and eggs breakfast would contain six Points, because of the nutritional differences. The new system increases Points for fat content and reduces them for fiber.
"The main reason is that science has evolved," said Karen Miller Kovach, chief science officer of Weight Watchers, about why the company made the switch.  "We know more now than we did 13 years ago. "
Although the model is getting an update, the core remains the same, she said.
Keri Gans, a registered dietitian who has no relationship with Weight Watchers, said the upgrade was "long overdue."
While weight loss is about calories in versus calories out, Gans said, "the difference is where those calories are coming from. In the old program, calories can come from non-nutritious foods. The foods have to be nutritious."
The changes have been in development for the last four years and were tested in trials at the Medical University of South Carolina, said Kovach.
She said the new system takes into consideration how the body has to work harder to convert protein and fiber than it would for fats and carbohydrates.  It also considered how some foods feel more filling than others.  While creating a deficit of calories is what causes the weight loss, nutrients also make a difference, Kovach said.
Fruits and vegetables will carry zero Points, to encourage people to eat more of them.
"Fruits and vegetables are good and healthy from the weight loss perspective, but at the same time, most Americans fall quite short of intake of these foods," said Stephanie Rost, corporate program development director of Weight Watchers.
"We're finding with our members reaching for a snack, no longer do a 100-calorie granola bar and a banana look equal," she said.  "The banana is a better option."  This gives people incentives to change their behavior.
Gans, author of "The Small Change Diet," said she initially had concerns that people would load up on fruit, which has calories.
"I thought about it and most people aren't even eating two pieces of fruit a day," she said.  "I'm not really worried."
High starch vegetables such as corns and potatoes will not be exempt.  And only steamed or raw vegetables will have zero Points – not collard greens cooked in fat.
Shrinking professor lost weight on diet of Twinkies
Weight Watchers will also offer a list of "power foods," comparing the nutrients in 40,000 food products and highlighting the healthiest choices.  For example, it compares a variety of soups and assesses sodium, sugars, fats, fiber to recommend the healthiest choice (such as a broth-based vegetable soup).  It is designed to be a cheat sheet to help people identify foods that are filling and healthy.
The changes in the American Weight Watchers program follow after similar changes in the United Kingdom.  Read more about the U.K. changes.