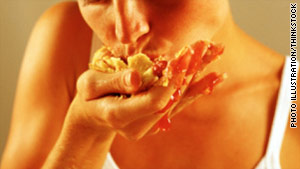 Eating disorders are on the rise among children and teens, according to a report published in Pediatrics Monday. Disorders such as anorexia and bulimia are increasing in male children and minorities, and also are occurring in countries where such cases have not been seen, according to the report.
Lead author, Dr. David Rosen noted that eating disorders also are beginning younger meaning below the age of 12.
The report also estimates that 0.5 percent of teenage girls in the United States have anorexia nervosa, and 1 percent to 2 percent met criteria for bulimia nervosa. And males make up about 10 percent of all  eating disorder cases, according to the report.
This spike in eating disorders paradoxically accompanied another alarming trend - about 17 percent of children and adolescents aged 2 to 19 are estimated to be obese.
"During the past decade, the prevalence of obesity in children and adolescents has also increased dramatically, accompanied by further emphasis on dieting and weight loss among children and adolescents," wrote Rosen, for the American Academy of Pediatrics committee.
This puts pediatricians in delicate positions of conveying the risks of being obese but also giving kids a healthy body image.
"When counseling families on preventing obesity, pediatricians should focus on healthy eating and building self-esteem while still addressing weight concerns," Rosen wrote.  "Care needs to be taken not to inadvertently enable excessive dieting, compulsive exercise, or other potentially unhealthy weight management strategies." Pediatricians should become familiar with early detection and evaluating patients who may have eating disorders,  according to the report.
Check back to CNN.com/health for a full feature on this topic later this week.  If you have gone through this experience as a child and would like to talk to CNN about this, please leave a comment below and we'll contact you via email.