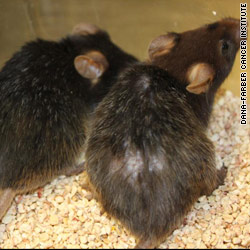 Could mice in a Boston laboratory hold the key to people living longer? Scientists think it's possible. Researchers at the Dana-Farber Cancer Institute say for the first time, they have partially reversed the aging process in mice. In these mice, brain disease was reversed, the sense of smell was restored; the mice even got their fertility back. The study appears in the journal Nature.
"What we have learned is that there's a point of return for even aged tissues," said Dr. Ronald DePinho, director of Dana-Farber's Belfer Institute of Applied Cancer Science and professor of medicine and genetics at Harvard Medical School.
But before you head to Boston to see if you can get in on the action, there are a few things worth noting. First, these weren't your typical mice. For the experiment, scientists tweaked the telomerase gene in mice, which maintains the protective caps called telomeres that shield the end of chromosomes. As we age, that tip degenerates, opening the door for all kinds of hallmarks of aging, such as gray hair, organ degeneration, cognitive decline and infertility.
Scientists can't tweak your DNA – it wouldn't be medically safe or ethical. But DePinho hopes his work with mice will help medical science develop drugs that will help people age more healthfully.
"We're not in the business of genetically engineering humans," he said. "I think we would love to develop small molecule drugs that would be able to re-activate the telemorase enzyme prior to getting into all these degenerative states."