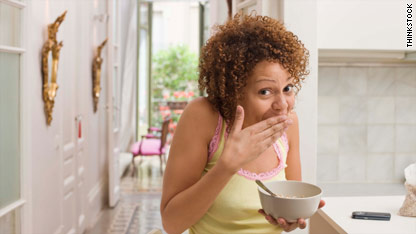 Too embarrassed to ask your doctor about sex, body quirks, or the latest celeb health fad? In a regular feature and a new book, "What the Yuck?!," Health magazine medical editor Dr. Roshini Raj tackles your most personal and provocative questions. Send 'em to Dr. Raj at whattheyuck@health.com.
Q :Every time I eat, I seem to turn into a burping machine. What's going on?
A: Eating too fast can lead to burping because you swallow excess air as you chow down. To ease the problem, schedule more time for meals and eat at a more leisurely pace, concentrating on chewing slowly.
You will cut down on the amount of gas in your stomach and may even eat less (you'll notice that you're getting full and stop). Other burp inducers to avoid: talking while you chew, drinking soda, chewing gum, or using a straw.
If the burping persists even after you've slowed down and changed your habits, if you develop a burning sensation in your chest and throat, or if you notice that certain foods cause pain in your stomach, you may have an ulcer or acid reflux.
See your doctor, who will likely perform a physical examination, including blood tests. If you have an ulcer or have signs of acid reflux, nonprescription antacids, acid blockers like Zantac, or proton-pump inhibitors like Prilosec or Nexium can help.
Roshini Raj, M.D., is Health magazine's medical editor and co-author of "What the Yuck?!." Board-certified in gastroenterology and internal medicine, Raj is also an assistant professor of medicine at New York University Medical Center and a contributor on the "Today" show.
Copyright Health Magazine 2011