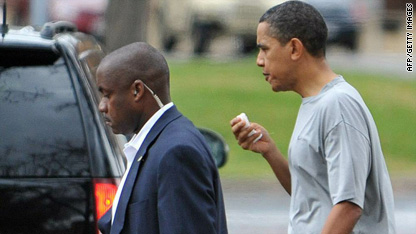 The injury President Obama suffered Friday in a basketball game at the White House is well known to many of us.
Dr. Tony Youn, a board certified plastic surgeon in Detroit, Michigan, said it's the most common injury call he gets from the emergency room - someone gets smacked in the face and ends up with a cut lip. It usually happens when a tooth punctures  the lip.
"The lips are very sensitive to trauma and swell up quickly, more than any parts of the body," he said.  "When you get popped in the jaw, you don't get a fat chin, you get a fat lip.  The lips are so reactive."
The lips are made of mucosa, the moist tissue that makes them fragile (especially to a flying elbow).
White House aides told CNN that Obama was given a local anesthetic while receiving the stitches and doctors used a smaller suture thread, or filament. That increases the number of stitches needed to patch up the tear, but it makes a tighter stitch so that the president's scar on his lower lip should be smaller.
Dr. Laurie Casas, a clinical associate professor of surgery at the University of Chicago Pritzer School of Medicine, said that 12 stitches aren't a lot, since each stitch can be as small as two to three millimeters.
A deeper injury penetrating the muscle layer in the lip would require a more complicated stitch called a buried stitch, she added.  Depending on whether the stitches are on the outer layer of the lip or deeper into the muscle, the stitches could be left in from five to 14 days. Stitches in the muscle layer of the lip would typically dissolve.
The key for the plastic surgeon is that "you reconstruct the border of the lips called the vermillion border," Casas said.  That needs to be lined up first, so you don't distort that border."
If they're not lined perfectly, you could see a "cosmetic deformity," said Dr. Marc Yune, a certified facial plastic surgeon in the greater Atlanta area.
Obama can expect swelling and bruising for a couple weeks.  And he, like many others with a severe lip lacerations may be told to stay on a liquid diet or avoid crunchy foods, to prevent a potato chip from slicing through the wound.