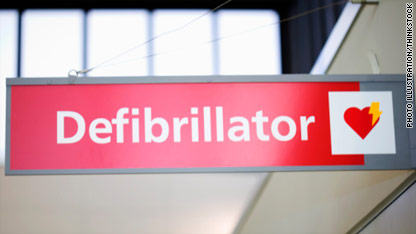 With heart disease remaining the leading killer in the United States, scientists are looking at ways to improve heart health.  Researchers presenting at this week's American Heart Association meeting  found that defibrillators in hospitals are not effective, a common heart imaging technique may expose patients to radiation and that an experimental pump can help heart patients who are waiting for transplants.
AEDs in hospitals not very effective
Automated external defibrillators help people when they're outside the hospital – but don't seem to help survival for people who are already hospitalized.
A study that will be published in the Journal of the American Medical Association this week found that using the AED lowered survival overall in the hospital.  This could be because only one in five hospitalized patients has the type of cardiac arrest that responds to defibrillation.
The findings were presented at the American Heart Association scientific sessions.  It assessed cardiac arrests in 204 U.S. hospitals between January 2000 and August 2008.  Of the 11,695 hospitalized patients. Only 18 percent had shockable rhythms compared with about 82 percent who had nonshockable rhythms.
The survival rate for patients in which the AEDs were not used was 19.3 percent – which was higher than 16.3 percent survival rate for patients in which the AED was used.
AEDs can improve survival when they're in public places where large numbers of people gather.  But the evidence of its usefulness in hospital settings is mixed.
"Our results may appear surprising because AEDs have been shown to improve survival for witnessed out-of-hospital cardiac arrests in public locations. However, our results may differ substantially from those investigations due to differences in the initial cardiac arrest rhythm," the authors wrote.
High radiation in heart diagnostic imaging
Patients who get multiple tests for a type of heart disease diagnostic imaging could be exposed to high radiation, according to another study presented at the heart group's annual meeting.
And high exposure to radiation could elevate risk of cancer.
The imaging test is called, myocardial perfusion imaging, which evaluates blood flow for scarring and to evaluate signs of heart disease.  In the study, which was conducted in 2006 at Columbia University Medical Center, 1,097 patients underwent MPI and 38.6 percent underwent additional MPI studies.
Repeated testing is associated with a high cumulative estimated radiation dose, according to the study, which will be published in this week's Journal of the American Medical Association.
Heart pump shown to be effective
An experimental pump that assists patients with advanced heart failure waiting for a transplant can be effective, according to results of a clinical trial presented at the heart meeting.  
Among the 140 patients awaiting heart transplants, 92 percent of them survived for 180 days with the HeartWare device, and received a transplant or recovered to the point they no longer needed the device.
The device is a continuous-flow pump, implanted in the heart's main pumping chamber with the remainder of the device positioned within the space surrounding the heart.