We're at the starting line of CNN's 2011 Fit Nation Challenge. That means we're looking for six CNN viewers to race in the 2011 New York City Triathlon with Dr. Sanjay Gupta. Are you interested?
Here are a few things to know: CNN is looking for people who need a little help getting fit, not people who have already raced a triathlon (or marathon, for that matter). If you're serious about getting healthy and changing your life, this is the challenge for you!
The six lucky viewers will be given everything they need to train for this race and their new, healthy lifestyle. The event is composed of a 1-mile swim, a 25-mile bike ride and a 10k run. All we ask in return is dedication, commitment, and regular contributions for our blog. If you fit the bill, send us a video .
Not sure if you're ready for this?
Hear from some of this year's "six-pack". This challenge changed their lives and it can change yours, too! So what are you waiting for? Just TRI it and soon you could be off and swimming, biking, and running with Dr. Gupta!
Meet the 2010 "Six-Pack"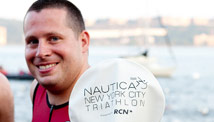 Dean Hanan:
My wife and I were planning for the future by setting up a two-year plan and a five-year plan when I realized I couldn't go on the way I had been for the past decade. Health becoming less and less of an issue. Smoking and comfort eating becoming more and more of a crutch. Something had to give and I had to make a change.
Then something happened. The Livestrong site recommended following Dr. Sanjay Gupta on Twitter and I just clicked, followed and read the tweet. It said "want to train with me for the 2010 NYC Triathlon? Click here" and the rest was history. After being part of the CNN Fit Nation 2010 triathlon six-pack, I've been changed forever. Being a slave to cigarettes and unhealthy eating is over and I'm ready for my second 2011 NYC Triathlon. All I had to do was tell myself "why not me?" So, what are you waiting for? Why not you?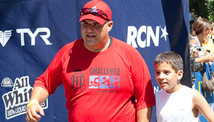 Rickey Williams:
When a change needs to take place there is always one big decision followed by countless tiny decisions each day. It has been three months since I successfully completed the CNN Fit Nation Triathlon Challenge. From the start of my training I knew that one day soon I would have to swim a mile, bike 40k and run 10k. As with most upstarts in my life I started strong. After a while I lost a little steam. In fact I remember waking up one morning for a swim thinking, "I do not want to do this today." My next thought was, "whether I do this swim today or not, I still have a one mile in the Hudson River to do.".I did the swim. The tiny decisions each day were to get my training in, eat well and get enough rest, but that ONE big decision was to make a short video to let it be known that I wanted to take the challenge. It has been one of the best decisions I have ever made.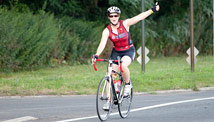 Angie Brouhard:
My experience training for the NYC Triathlon was an incredible journey that has changed my life! I found that I could do more than I ever thought I could. I remember lying on the couch in July 2009 recovering from a chemotherapy treatment and wondering if I would ever feel like myself again. With the motivation of the triathlon, I ended up not just feeling like myself again, but I felt better than ever! When I crossed that finish line on July 18, 2010, I had completely conquered breast cancer. I was strong and healthy and physically fit! Since then, I have completed another triathlon and have continued to swim, bike and run. I am excited to be part of my town's new triathlon club. I plan on keeping up with the training and participating in more triathlons.
And through this experience, I have been able to talk to many women about the importance of being fit and healthy. I have been able to encourage women newly diagnosed with breast cancer. Cancer is never a good thing, but Romans 8:28 tells me that "in all things God works for the good of those who love him." I know that God worked my breast cancer for good because I loved and trusted him.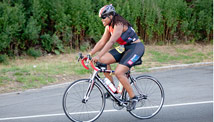 Meredith Clark:
My medal isn't just a reminder that I am a triathlete. It's a reminder of what I can do by taking daily steps toward a seemingly impossible goal.
When I sent in my video for CNN's Fit Nation Triathlon Challenge, my goal was to lose a few pounds during the training. And I did. Just a few. Like 5. Initially, the slight drop in scale numbers was disappointing, but that letdown was replaced with the adrenaline I felt every morning when I pulled myself out of the pool, in the evenings when I ran farther and faster than I ever thought possible, and on the weekends when I took flight on my bike. My concern about my weight took a back seat when I realized that in taking every step to train, I was taking steps to change my life, and all else would fall into place.
What I gained through this challenge was incredible endurance, and another dimension in understanding what my body is capable of. I have life-long friends with whom I share an uncommon (we swam in the Hudson River!) bond. The triathlon challenge was life-changing in ways I never could have imagined would take shape when I taped a 60-second video and sent it to CNN, and I encourage anyone who's looking to do what others deem impossible to simply give it a try.