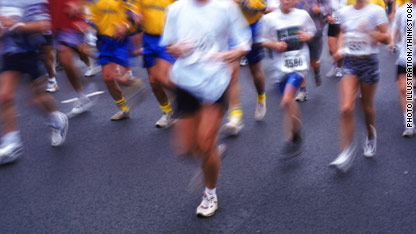 Making us feel woefully inadequate this week is Chilean miner, Edison Pena, 34.  The guy popped out almost 70 days underground and decided to run in the New York City marathon Sunday.
Joining New York, Philadelphia and Seattle are among several cities hosting  treks this month. Here is the marathon version of the fitness digest.
Chilean miner to run NY marathon
Not only did Edison Pena survive 69 days in a cramped mine 2,300 feet underground.  He turned down the invitation to be a spectator for the New York City Marathon, because he wanted to run it.
While stuck in the mine, he earned the nickname "the runner" for jogging through one of the mine's tunnels, but he was eventually forced to stop after rocks began to fall along his route.
No shoes, no socks

A few New York City marathon runners are ditching the shoes in their 26.2-miles run, reports the New York Times.  Perhaps, these runners should consider tetanus shots.
Barefoot running has gained popularity after the release of best-selling book "Born to Run," by Christopher McDougall, which espouses that running shoeless  improves posture and reduces injuries.
On Friday, McDougall, actor Peter Sarsgaard and others will perform a cabaret about shoeless running.
Don't let this happen to you
For marathon newbies, cramps, overuse injuries and dehydration can be common problems, reports Reuters.
Runners should train at least six months to build up the cardiovascular stamina to endure the marathon.  Dr. Jordan D. Metzl, a sports medicine physician, warns enthusiastic rookies not to run through the pain in the article.
"Any pain changes your gait cycle, you've got to check out," he said. "Remember, the first guy who ever did this died at the end of the race."  He was referring to Pheidippides, who according to the ancient legend, ran marathon distance to spread news of Greece's victory, then dropped dead.
Very reassuring.
A yearlong exercise ... in narcissism
"Sport, no. Self-flagellation, penitence, lunacy – yes," writes Dave Hollander for the Huffington Post.
Marathon runners are not athletes, Hollander and C.J. Sullivan write.  "They endure and then squawk about it endlessly as some kind of heroic feat. It smacks of narcissism not sport,"  Sullivan chimes in.
Their conclusion: Yes, running 26 miles is really impressive, especially for elite runners.  But do you really want to hear people talk about it all year?
Your thoughts?