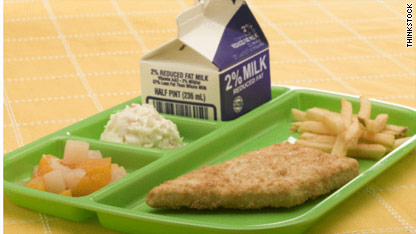 A federally funded food program that provides meals to more than 3.3 million adults and children from low-income families mainly through after-school programs, emergency shelters and child and adult day care centers, may soon undergo major revisions for the first time in more than two decades.
 At the request of the U.S. Department of Agriculture, the Institute of Medicine reviewed the 42-year old Child and Adult Care Food Program and issued a series of recommendations to help "bring the meal requirements into alignment with the best available dietary guidance" and be more consistent with other programs of the Food and Nutrition Service.
Some of the key changes include recommendations that CACFP providers:
– use only breast milk or formula for infants under 6 months
– refrain from giving fruit juice of any type for children younger than 1 year old
– limit foods high in solid fats and added sugars
– separate fruits and vegetables into separate categories, and increase the number of servings of each per week.
The IOM and USDA say the goal is to provide healthier and more nutrient rich foods to CACFP participants, particularly in view of the high prevalence of obesity in the United States. According the CDC, nearly 17 percent of U.S. children between the ages of  2 and 19 are obese, and a recent JAMA study found the prevalence of obesity was particularly high among low-income, preschool-aged children.
In a statement, Kevin Concannon, USDA under secretary for the Food, Nutrition and Consumer Services division says he wants to make sure "programs meet the highest nutrition standards, in ways that our program partners can implement and that our children can enjoy."
The IOM revisions follow the MyPyramid model already embraced by similar federal food programs including the supplemental nutrition program for Women, Infants, and Children and the National School Lunch Program, both of which received similar updates in the past few years.