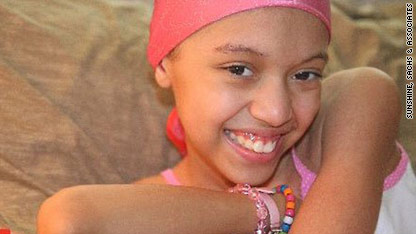 The death of a young star of the Broadway's "The Lion King" has drawn attention to the lack of bone marrow donors, especially for minorities.
The news that Shannon Tavarez,11, had passed away, prompted  some CNN.com readers to pledge to sign up to donate.
Doctors had been unable to find a bone-marrow match for Tavarez who had acute myeloid leukemia. She received a transplant from an umbilical cord in late August as an alternative.
Here are some of your comments:
Lakerboy: I lost my son to AML in July of 2009. He was 22 years old and fought a very difficult 26 month battle against this horrible disease. I beg of anyone who reads this message, to please become a bone marrow donor. It is an incredibly simple process, similar to donating blood.
My son did receive a bone marrow transplant in October of 07. He did beat the cancer, but unfortunately was taken by complications of all the treatments he had to endure. I am so very thankful to the anonymous donor, who gave my son an extra two years to live. Every minute of those two years was so very precious to both my son and I. Thank you to all of you who have already become a donor or will be doing so in the near future. God Bless You and God Bless the Family and Friends of Shannon, such a brave young lady!
Sybaris : I registered with the C.W. Bill Young Department of Defense Marrow Donor Program about 8 years ago. I was called on to donate within a year. The whole process is done anonymously to the donor and recipient. After a year there is the option for the donor and recipient to contact each other. We did. My marrow went to a 4 year old boy with terminal Monosomony7. He is now a healthy thriving 11 year old. Participating in the BMDP was the most worthwhile thing I have ever done and I encourage everyone to at least learn about the program and consider participating.
Savannah416: Everyone: if you have not already, please consider becoming a blood marrow donor, particularly if you're a minority because their databases are woefully in need of more donor candidates. A simple cheek swab is all it takes to become a potential candidate, and the payback is immeasurable if you can save a life. less
Guest:
I just signed up, thanks to one of the commenters below who provided a recommended site (marrow dot org). The process only took about 10 minutes; now I will just wait to receive my kit in the mail.
The first step to become a bone marrow donor is to join a registry .
Doctors around the world search the registry to find a match for their patients. The majority of donations do not involve surgery.  Doctors most often requests a peripheral blood stem cell (PBSC) donation, which is non-surgical and similar to blood donation.
For more information: DKMS Americas and National Marrow Donor Program