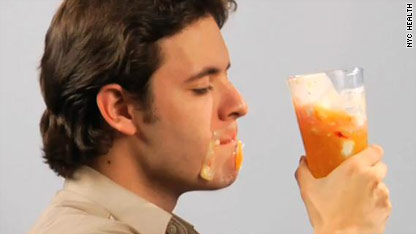 Diet pills to treat obesity are like unicorns and fairy godmothers - they don't really exist.  The FDA scuttled another weight-loss drug this week.  Here's another myth - a YouTube video went viral warning that drinking soda every day would make you gain 10 pounds.  Viewers got to see a man chugging dollops of fat.   Disgusting? Yes, but was it true?
Here are some of the  interesting, quirky or  bizarre diet-and-fitness items this week.   Tell us your suggestions for interesting stories, posts or websites that caught your eye.
No magic pill for obesity
The FDA rejected Qnexa, an experimental drug for obesity. This came as a double whammy for weight-loss pills because the agency had rejected another diet drug, lorcaserin last week.
Qnexa could help with weight loss, but runs a small risk of heart palpitations and increased heart rate in the clinical trials. It combined phentermine, which was half of Fen-Phen (if it sounds familiar, it's because that was the diet drug pulled from the market in the 1990s after some users developed heart problems) and topiramate, an anti-seizure medication.
Are diet pills worth the side effect risks?  Weigh in.
Soda wars bubbled in NY health department
The claim was that drinking a can of soda a day "can make you 10 pounds fatter a year." You may remember the campaign from this barf-inducing YouTube video.
New York health department officials debated whether that claim was accurate, according to the New York Times.  City officials wanted the campaign to have a "major gross-out factor," despite internal doubts about scientific accuracy, writes the Times.
Madonna starts a gym
The seemingly fat-free 52-year-old plans to open 10 locations of her own line of gyms called Hard Candy Fitness.  She has teamed up with Mark Mastrov, the mastermind behind 24 Hour Fitness.
The ultra-luxe gyms called "Hard Candy Fitness Center" will be located in Argentina, Brazil, Russia and throughout Asia and Europe.  Besides, Madonna always seemed to have a thing for leotards.
Plus-sized intimacy
A CNN.com writer found herself at the center of a fat debate this week.
After CNN's Lisa France wrote a story about plus-sized plotlines and societal discomfort watching two overweight actors get intimate in TV shows, the theme was picked up by a blogger for Marie Clare.
That writer, Maura Kelly wrote that she would be "grossed out if I had to watch two characters with rolls and rolls of fat kissing each other. To be brutally honest in real life I find it aesthetically displeasing to watch a very, very fat person simply walk across a room."  Kelly later apologized for the post and said she had survived anorexia.
"I think overweight people are the last group people think it's OK to make fun of," France said.  "If you laugh at them because they're African-American or disabled, people get up in arms. But if you laugh at somebody because they're fat, come on, fat people are funny."
Read more about the heavy debate.
The matter seems far from over, as a group ticked off with Marie Claire planned a rally outside the Hearst Building on Friday.  Their motto: "Love has no weight limit!"