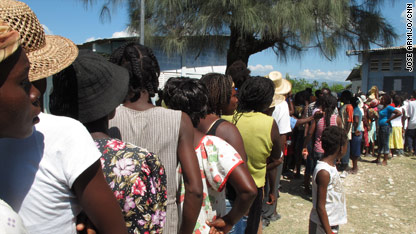 Haiti's department of public health has recorded 4,147 confirmed cases and 292 deaths from cholera since the outbreak was reported last week, officials from the Pan American Health Organization (PAHO) announced Wednesday. The PAHO is watching the spread of the disease closely, for fear that cholera could cross the border into the Dominican Republic.
On Tuesday, the United Nations reported Nigeria's worst outbreak in recent years, with more than 1,500 dead.
But these two are  not the only nations seeing effects from the deadly illness. As of this month, four African nations - Nigeria, Cameroon, Chad and Niger - have reported more than 40,000 cases of cholera and more than 2,000 deaths.  And Pakistan, a country that is still suffering from the effects of horrific floods, also is reporting 100+ cases of cholera since last month.
Why so many outbreaks? Experts say it all depends on the conditions. According to the World Health Organization (WHO), there are an estimated 3 to 5 million reported cholera cases and 100,000 to 120,000 deaths due to cholera every year.
Cholera is caused by unsanitary conditions that pollute the water. In all of the outbreaks mentioned, unclean water is the suspected factor. There are two ways  cholera (Vibrio cholerae) usually gets into water or food: Through contaminated feces or naturally.
Cholera can be deadly within hours
In an epidemic, the source of the contamination usually is the feces of an infected person. Cholera can spread rapidly in areas with inadequate treatment of sewage and drinking water.  In many situations, natural disasters, such as floods, typhoons and earthquakes, disrupt the water and sanitation systems and displace people, leading to eliminating in public and other unsanitary practices that pollute the water supply.
Aquatic sources such as brackish water and estuaries, often associated with Algae blooms, are more prone to developing this acute disease. And although cholera, technically, cannot be transmitted from person to person, if a family lives together in unsanitary conditions and someone in that group has cholera, the disease tends to spread more rapidly.
In Haiti, officials have not pinpointed the exact source of the outbreak. " (We) won't know until molecular analysis is done," says Dr. Jon Andrus, deputy director of PAHO. "That is an interesting question we may never have the answer to."   He continued, " (We're) trying our best to determine it, but we don't have a definite answer."
Globally, the number of cholera cases reported to WHO continues to rise. From 2004 to 2008, cases increased by 24 percent compared with the period from 2000 to 2004, according to the organization.
The WHO also noted the rise in cholera cases might be due to a new series of variant strains detected in several parts of Asia and Africa. Its data suggest that these strains cause more severe cholera with higher fatality rates. Experts also say the re-emergence of cholera is connected to the increasing numbers of populations across the globe living in unsanitary conditions.
Since the outbreak in Haiti, PAHO officials have stressed that people can fight the problem with healthier habits. "Something as simple as washing your hands can make a difference, " explains Andrus, "It sounds so easy, but it really can help."