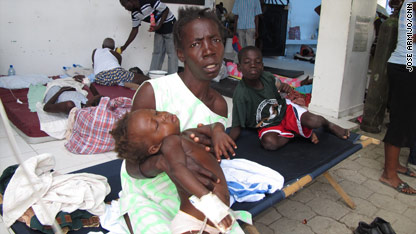 The fast moving cholera outbreak has sickened more than 3,000 people and resulted in more than 250 deaths in the island nation of Haiti. This infectious disease has not been seen on the island since the 1960s and doctors are working around the clock to get the outbreak under control.
"We expect these cases to increase and infection to emerge," said Dr. Jon Andrus, deputy director of Pan American Health Organization. "We had put in an early warning system to watch for these consequences, since the earthquake on January 12. So we are prepared if the numbers become more widespread. We are ready to handle this infection."
But according to Dr. Anthony Fauci, director, National Institute of Allergy and Infectious Diseases at the National Institutes of Health, the bacteria must have been in Haiti already, beneath the surface, and poor sanitation helped trigger the outbreak.
"If there is no problem with sanitation it just lurks there and lives in the water, not as a disease," Fauci said. "But the microbe was there somewhere in the water in Haiti. In situations where you have natural disasters like floods, hurricanes and earthquakes, if you don't have the microbe lurking there, then you don't get an outbreak."
New Orleans is the perfect example of this Fauci says.
The Centers for Disease Control and Prevention (CDC) put out an advisory during Katrina that said: "Diseases like cholera or typhoid are rare in developed countries, and do not typically occur after a natural disaster."  It continued, "Unless a disease is brought into a disaster area from elsewhere, any outbreaks that occur are almost always from diseases that were already in the disaster-affected area before the disaster struck."
Andrus says the risk of the disease moving to the other side of the island and infecting those in the Dominican Republic is very high. Government officials there say they are working to keep the disease from entering the country.