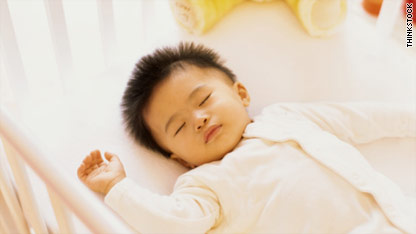 One of the challenges faced by new parents is getting their infant to sleep through the night and on to a sleep schedule similar to that of Mom and Dad. A new study in the journal Pediatrics finds that most babies will sleep five to eight hours per night by their fourth month of life.
"Sleep is important for optimal growth and development and also goes a long way towards a baby's mood, " said Dr. Jennifer Shu, a practicing pediatrician and CNNHealth's Living Well expert. "Most newborn babies sleep about 16 to 20 hours per day (ie, more asleep than they are awake) and by a few weeks of age they already tend to sleep more at night than in the day. There can definitely be some differences, however, with some babies needing less sleep overall or less daytime sleep than others.
"It can be an issue with parents if parents expect their babies to sleep a certain amount but it's not happening—ie, the baby's sleep pattern doesn't fit with the rest of the family's or the family's expectations." Shu said. "Also, parents are often exhausted in the early days because even though baby sleeps plenty of hours, they are interrupted periods, with feedings occurring every few hours so parents don't get the stretches of sleep they're accustomed to getting."
The researchers asked parents of 75 babies to keep sleep diaries. Parents kept diaries of their infants for six days per month for the first 12 months of the babies' lives. The parents were also invited to shoot time-lapse video of their child's sleep, to help verify the results of the diaries.
Three  criteria were used to judge whether the baby was sleeping through the night: Sleeping uninterrupted from midnight till 5 a.m., sleeping uninterrupted for eight hours, or sleeping uninterrupted from 10 p.m to 6 a.m.
The study found the most babies will sleep five to eight hours per night by about the age of four months. Many babies will sleep while the rest of the family is sleeping–50 percent of babies at age five months.
"There is always a caveat," Shu notes:  "It's important to note that babies are different and we shouldnt expect or force all of them into a cookie-cutter sleep mode. Some babies just don't respond to the 'cry it out' method."
Shu notes that she talks to many parents with concerns about a new baby's sleep patterns. "Parents whose babies sleep less than they would like (as well as those who sleep more than their friends' babies sleep) wonder if their baby's sleep is normal. Also, parents have concerns when babies won't fall asleep on their own and need to be rocked/fed/etc.","
"What's normal for your baby is very individual," she tells parents. "If baby is thriving and happy, then it's normal! There's almost no such thing as getting too much sleep—that is, if your baby sleeps a lot and is feeding/growing/acting well then be grateful!
"Also, it's helpful to build good sleep habits by giving baby the opportunity to sleep in the same place at roughly the same time every day and night. Also offer a routine that involves helping the baby relax (by cuddling/holding/rocking for example) and putting them into the crib slightly drowsy but not completely awake. Consistency really helps.
"One problem I see is that parents may give up on the routine too soon and hold the baby for a long time so the baby sleeps, or put baby into bed with them, etc. This is a short-term patch but not a good long-term solution. If they keep trying to put baby down drowsy but awake, baby will eventually learn how to self-soothe and fall asleep (and get back to sleep since we all have brief nighttime awakenings) on her own."
The Pediatrics study confirms what pediatricians generally tell parents about sleep and their baby, according to Shu, "I usually tell parents that most babies can sleep at least five-hour stretches by four months. Knowing that many will sleep for 8 hours straight is icing on the cake. Having those eight hours fall during the time when the rest of the family is asleep is a touchdown!"
And she warns that parents shouldn't feel guilty if their child is taking longer to get onto a sleep schedule, saying "Parents should not feel bad if they've tried everything, yet their baby still won't sleep. It may help to readjust their expectations. It can take time for a baby to mature and learn to 'self-regulate'.  A parent of a one-month old can take comfort in knowing that in most cases, their baby's sleep will improve within a few months. However, the first month is an ideal window to help promote good sleep habits in babies so they are more likely to self-regulate within the expected four-to-five-month period. It's important to be consistent in the first few months to help babies develop this self-regulation but to keep in mind that there are definitely some outliers—some babies will continue to have sleep difficulties even if parents are doing everything 'right' although the majority will have a good sleep."