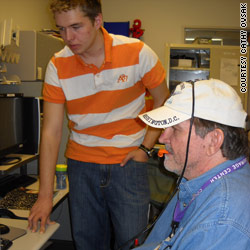 A teenager is working on an idea he hopes will help thousands of people with disabilities use computers better.
Gavin Ovsak, 16, designed a circuit board attached to a baseball cap that allows someone who can't move his or her hand well to operate a computer without a mouse. It essentially turns your head into a joystick, he said.
Head movements direct the cursor in the computer screen, and a bite sensor lets a user click on something on the screen. Gavin wrote a computer program that controls this device. He was also featured in this CNN.com story about achievement and motivation.
In the photo above, Gavin, left observes as Jim Kelley, client service specialist at the Courage Center rehabilitation facility in Golden Valley, Minnesota, operates the device. Gavin also had some of the center's clients test the CHAD.
"It was particularly gratifying to see that every individual with a spinal
cord injury who tested my device was able to start controlling a cursor in a remarkably short time," Gavin wrote in his research report about the CHAD.
Between 250,000 and 400,000 Americans live with spinal cord injury or disease, according to the National Spinal Cord Injury Association. Many of them have limited function of their limbs. Condition such as Lou Gerhig's disease, myelitis, and polio may also leave individuals with limited arm muscle function.
Patients with quadriplegia have difficulty accessing computers without the aid of an expensive and complex device, Gavin said. He tried to make the CHAD simpler and more economical than what's currently out there.
One type of device on the market now is a tongue-operated joystick, but this is cumbersome and at least $1,800, he said. Another is an infrared tracker that involves a sticker placed between the user's eyes that moves the mouse around, starting at about $900 - but if you don't move for a while, the computer thinks you are "clicking," which can make reading difficult and distracting. The most sophisticated option right now is the EyeGaze, which begins at around $8,700, and uses a camera array to track eye movement, Gavin said.
The CHAD, on the other hand, would cost about $500 and could be used on any computer, and is able to adapt to any computer almost instantly, he said. For example, a user could take it to the public library, whereas many of the options currently available can be used only on one dedicated computer.
It's more than half the usability of the mouse, but it's still not perfect - Gavin is currently making lots of little improvements to it, and hopes to sell it, at least on a small scale, before he goes to college next year.