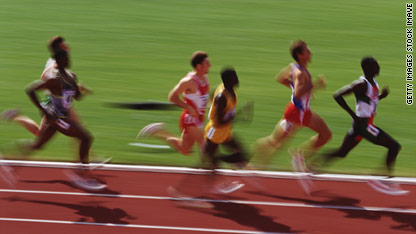 Every Friday, we'll give a Web shout-out to interesting, quirky or  bizarre diet-and-fitness items. Tell us your suggestions for interesting stories, posts or websites that caught your eye.
If you want to win, suck it up.
Writing about the art of pain, New York Times' Gina Kolata finds superathletes are able to manage and push through pain.   That mental tenacity and pain coping separates "the mortals and immortals in running."
Several accomplished athletes told the Times they were willing to endure the worst pain and do "whatever it takes to win the race."
21 pounds in 21 days
TV and radio personality Steve Harvey turned to a diet of veggie and berry drinks to shed weight.  This detox diet, dubbed the Martha's Vineyard Detox Diet, also requires  digestive enzyme pills and coffee enema. 
The mere sacrifices according to diet book "21 Pounds in 21 Days'" website is that  you may experience "acne, rashes, nausea, headaches, sleepiness, fatigue, constipation, diarrhea, runny nose, ear problems, and body aches." Sounds pleasant.
Doctors have long slammed detox diets as being junk science and even carrying risks.  Harvey appears pleased with his results, writing, "A more than successful week on my detox I feel great especially after stepping on the scale started @ 238.4 now 228."
Math helps marathons

The way to prevent "hitting"the wall" during a marathon is calculating how much carbs a runner needs to run 26.2 miles.
Ben Rapoport, an M.D./Ph.D. student in the Harvard-MIT Division of Health Sciences and Technology, designed a model published in the Oct. 21 issue of PLoS Computational Biology, that allows runners to calculate their pace and carbs.
"In order to avoid it [hitting the wall], you need to know what your capabilities are," he told MIT News. "You need to set a target pace that will get you to the finish without hitting the wall. Once you do that, you need to make sure you appropriately carbo-load."
Alcohol-and-caffeine concoction crashes students

Trouble rumbles in Jersey stemming from young people and booze - and this time, it has nothing to do with Snooki.

A New Jersey college banned Four Loko, an energy drink  containing caffeine and alcohol that has earned the distinctive nickname  "blackout in a can." Ramapo College this month banned the carbonated drink after 23 people were hospitalized for alcohol intoxication in the fall semester, the Record reports.
The drink at the center of the controversy comes in a 23.5 ounce can and contains either 6 or 12 percent alcohol content depending on the state.  It also packs a punch of caffeine, taurine, guarana, and alcohol, and comes in eight candy-like flavors: blue raspberry, cranberry lemonade, fruit punch, lemon-lime, lemonade, orange-blend, grape and watermelon.  They taste like liquefied candy or just windshield wiper fluid– depending on whom you ask.
Credit cards say yes to cake
Not only do they get you into debt, credit cards mount calories, too.
A study tracking grocery shopping habits of 1,000 households, found that people who used debit or credit cards were significantly more likely to make unplanned, impulsive food choices such as cookies, cakes and other unhealthy treats,  as reported by our partners at Time: Time: Paying cash at the grocery store leads to healthier food choices
Fat freezes
A newly approved FDA device is now in doctors' offices that  freezes fat cells, causing them to die and then reabsorb into the skin. Zeltiq, the company behind the "CoolSculpting" touts the procedure for its lack of needles or surgery, and says it can produce a "20 percent reduction of fat in the treated area."
"No matter what you do, you can't get rid of that extra bulge," Jessica Sanders, mother of two, who is trying to get rid of post-pregnancy weight told CNN affiliate KXAN in Austin speaks to a patient. However, there is some skepticism  about whether freezing effectively reduces fat.