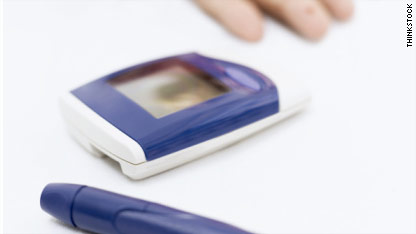 One in three American adults is projected to have diabetes by 2050, according to a report released by the Centers for Disease Control and Prevention (CDC) Friday.  An aging population, diabetics living longer and the increasing number of at-risk minorities are the main factors contributing to the rise according to the report.  However the prevalence of obesity in the United States also plays a role.
"Obesity is a significant contributor to the new cases of diabetes. It is certainly a factor," Ann Albright, director of the CDC's Division of Diabetes Translation tells CNN.
Currently 1 in 10 adults has diabetes and the CDC estimates about 23.6 million people in the United States are living with the disease. 
"Certainly the fact that diabetes prevalence is increasing and is likely to continue to increase into the future isn't really surprising," said Dr. M. Sue Kirkman, vice president of clinical affairs at the American Diabetes Association. "The absolute numbers in terms of the projections, are, of course, concerning and shocking."
Diabetes can cause serious health complications including heart disease, blindness, kidney failure, and lower-extremity amputations, according to the CDC website.
Part of the reason more people will have diabetes in 2050 is that people are living longer than they used to with the condition, a trend that will continue, Kirkman said. Doctors also are diagnosing the condition earlier, Albright said.
Diabetic? Take this test to see how well you're managing your condition
Almost 6 million don't know they have diabetes according to the CDC and 57 million Americans are prediabetic, meaning they are headed for the condition.  In prediabetes, blood sugar levels are higher than normal, but not high enough to be officially diagnosed as diabetes, Kirkman said.
CDC researchers examined the rise in obesity in the United States in the study, published in the journal Population Health Metrics. They found that the number of Americans living with diabetes is expected to double and possibly even triple by 2050. The overwhelming majority of these people will develop type 2 diabetes, where the body loses its ability to produce insulin.
Proper management of type 2 diabetes includes a healthy diet and possibly medication – either oral pills or insulin shots. Physical activity is also important, Kirkman said.
Aside from ethnic background, risk factors include having a family history of diabetes, high blood pressure or heart disease. The most common risk factor is simply being overweight.
Women with a history of gestational diabetes, a temporary form of the condition that sometimes occurs during pregnancy, are also at risk for developing type 2 diabetes later in life.
The American Diabetes Association recommends that everyone, even without other risk factors, should get screened by age 45. But if you are overweight and have a family history, you might want to get tested earlier.
The connection between diabetes, heart problems and stroke has been highlighted in much research, but scientists do not know the exact mechanism behind it, Kirkman said. One contributing factor is that high blood pressure and cholesterol levels are also risk factors for both diabetes and heart disease. Both women and men with diabetes are at elevated risk of heart attack and stroke.
Excess fat around the midsection is linked to a higher risk of type 2 diabetes, as the visceral fat wrapped around the internal organs can pose a problem, and it increases insulin resistance.
Here are eight common diabetes questions answered
The projected rise of diabetes among minorities is particularly concerning, Albright said.  Researchers found African-American, Hispanic, American Indian, and Alaska Native adults are twice as likely as white adults to have diabetes.
The cost of treating diabetes is expected to triple, according to a 2009 report. Treatment requires constant monitoring - checking and recording blood sugar level several times weekly or daily, insulin therapy or even dialysis if diabetes leads to kidney failure.
Only about 5 to 10 percent of diabetics have 1 diabetes; their bodies do not produce insulin, according to the American Diabetes Association.
Diabetes is at the heart of a lot of health issues, but these predictions do not have to come true, Albright said.
A large number of type 2 cases can be prevented, she said. A smart nutritious diet and moderate exercise, even just 30 minutes a day of vigorous walking, can help maintain proper blood sugar levels and help prevent type 2 diabetes.
Albright said the CDC has a plan in place to help reduce the number of new cases and to help improve lifestyle choices so people will be more likely to eat healthy and exercise. These prevention efforts specifically target communities where access to healthy food and safe places to exercise aren't available.