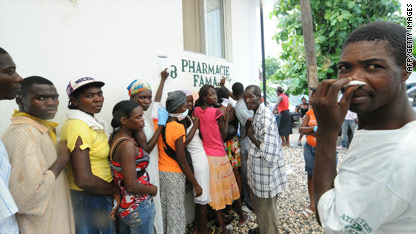 Cholera is a bacterial illness that causes severe diarrhea and dehydration and can be lethal within hours if a person is not treated.
"This is a bacteria that actually is in the environment. It's in brackish water in the river. It can be in seacoasts and if the environmental conditions are not right, the cholera bacteria can grow up and then anyone who ingests that water or food that comes from that water or food that is prepared with that water can get ill," says Dr. William Schaffner, chair of Preventive Medicine at the Vanderbilt University Medical Center.
In an epidemic, cholera can also be spread from the feces of an infected person.  Children and adults alike are vulnerable.  According to the World Health Organization (WHO), three-quarters of people carrying the bacteria have no symptoms. For those who do get sick, the main symptoms include diarrhea, vomiting, muscle cramps, dehydration and shock. Death can occur if treatment is not immediately administered.
While human remains don't typically pose a health threat, the WHO notes that bodies of people who have died from cholera do pose a health risk and should be kept away from polluting sources of drinking water.
The WHO estimates  3–5 million people are sickened by cholera each year causing 100,000–120,000 deaths.
The bacteria can spread when human waste enters water systems and people drink the contaminated water or eat food that's been cooked in contaminated water.  While modern sewerage systems have almost completely eliminated cholera in industrialized countries, it can thrive in areas where war, disaster, or extreme poverty forces people to live in crowded and unsanitary conditions, according to the Mayo Clinic.
Cholera is easily treated if people can be rehydrated.  In many cases, giving patients oral rehydration salts can help relieve symtoms.  In more severe cases, IV fluids may and antibiotics are required.   According to the WHO, the fatality rate may be 30-50 percent if left untreated.   Two vaccines are available to prevent cholera, but they are not always readily available in situations where disaster and impoverishment flourish.
Improving sewerage and sanitation conditions is the best way to prevent cholera outbreaks and spread, according to the WHO.  But this is not always practical in times of disaster, where food, hygiene and public health tracking may be compromised.