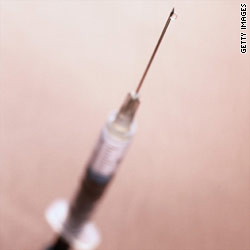 Today on CNNHealth, we take a look at the anxieties and doubts some U.S. parents have about the frequency and quality of vaccines administered to children. The reluctance to vaccinate has been theorized to be one of the reasons behind a whooping cough outbreak in California, which  claimed its 10th child victim today.
A Centers for Disease Control and Preventions committee on immunization practices is expected to meet next week. This committee makes recommendations for the routine vaccines for children and adults.
Some parents who've moved to this country from abroad say it feels as if the United States requires significantly more immunizations compared with other countries. Judging by the list below of scheduled immunizations, that's true for some countries, but not all. Here's a look at vaccine schedules around the world, based on information from the World Health Organization. To look up other countries, check out WHO's webpage.
The United States
1. Diphtheria and tetanus toxoid with acellular pertussis vaccine 2, 4, 6, 15-18 months; 4-6 years
2. Hepatitis A vaccine 12-23 months
3. Hepatitis B vaccine birth; 1-2, 6-18 months
4. Haemophilus influenzae type b vaccine 2, 4, 6, 12-15 months
5. Human Papillomavirus vaccine 11-12 years; 3 doses
6. Influenza 6-59 months; > 50 years; And some risk groups
7. Inactivated polio vaccine 2, 4, 6-18 months; 4-6 years
8. Meningococcal C conjugate vaccine 11-12 years; And other risk groups
9. Measles mumps and rubella vaccine 12-15 months; 4-6 years
10. Pneumococcal conjugate vaccine 2, 4, 6, 12-15 months; Also given to high risk groups after 15 months
11. Pneumococcal polysaccharide vaccine >=2 years and some high risk groups
12. Rotavirus vaccine 2, 4, 6 months; or 2, 4 months depending on the vaccine
13. Tetanus and diphtheria toxoids and acellular pertussis vaccine 11-12 years
14. Varicella vaccine 12-18 months; 4-6 years; also susceptible adults
Afghanistan
1. Bacille Calmette-Guérin vaccine birth
2. Diphtheria and tetanus toxoid with whole cell pertussis
3. Hib and HepB vaccine 6, 10, 14 weeks
4. Measles Measles vaccine 9, 18 months
5. Oral polio vaccine birth; 6, 10, 14 weeks; 9 months
6. Tetanus toxoid 1st contact; +1, +6 months; +1, +1 year
Japan
1. Bacille Calmette-Guérin vaccine 6 months
2. Tetanus and diphtheria toxoid childrens' dose 11 years
3. Diphtheria and tetanus toxoid with acellular pertussis vaccine 3, 4.5, 6, 18 months
4. Influenza >=65 years
5. Japanese encephalitis 36, 37 months; 4 years
6. Measles vaccine 1, 5 years
7. Measles and rubella vaccine 1, 5 years
8. Oral polio vaccine 6 months; 1 year
9. Rubella vaccine 1, 5 years

United Kingdom of Great Britain and Northern Ireland
1. Bacille Calmette-Guérin vaccine birth; risk groups
2. Diphtheria and tetanus toxoid with acellular pertussis, Hib and IPV vaccine 2, 3, 4 months;
3. Diphtheria and tetanus toxoid with acellular pertussis, and IPV vaccine 3-5 years
4. Hepatitis B vaccine birth; 1, 2, 6 months; High risk groups
5. Haemophilus influenza type b, Meningococcal C vaccine 12 months
6. Human Papillomavirus vaccine 12-13 years x 3 and young women aged 17-18 years
7. Influenza >=65 years; annually to at risk groups
8. Meningococcal ACWY 3 months to 2 years; 6 months to 2 years; For individuals on Hajj pilgrimage to Saudi Arabia
9. Meningococcal C conjugate vaccine 3, 4 months;
10. Measles mumps and rubella vaccine 13 months; 3-5 years; Campaign to give MMR to unvaccinated 5-18 year olds
11. Pneumococcal conjugate vaccine 2, 4, 13 months
12. Pneumococcal polysaccharide vaccine >=65 years; At risk groups & at risk children over 2 years
13. Tetanus and diphtheria toxoid for older children / adults with inactivated Polio vaccine 13-18 years
14. Varicella vaccine 1, 2 months; Non-immune individuals working with susceptible patients
Kenya
1. Bacille Calmette-Guérin vaccine birth;
2. Diphtheria and tetanus toxoid with whole cell pertussis, Hib and HepB vaccine 6,10,14 weeks
3. Measles vaccine 9 months
4. Oral polio vaccine birth; 6, 10, 14 weeks
5. Pneumococcal conjugate vaccine
6. Tetanus toxoid 1st contact pregnancy; +1 months; 2nd, 3rd, 4th pregancies
7. Vitamin A supplementation 6, 12, 18, 24, 30, 36 months
8. Yellow fever vaccine 9 months; Part of country
Brazil
1. Bacille Calmette-Guérin vaccine birth
2. Tetanus and diphtheria toxoid childrens' dose 2, 4, 6 months; Part of country special groups
3. Diphtheria and tetanus toxoid with acellular pertussis vaccine 2, 4, 6 months; Part of country special groups
4. Diphtheria and tetanus toxoid with whole cell pertussis vaccine 15 months; 4-6 years
5. Diphtheria and tetanus toxoid with whole cell pertussis and Hib vaccine 2, 4, 6 months
6. Diphtheria and tetanus toxoid with whole cell pertussis, Hib and HepB vaccine 2, 4, 6 months; Part of country natives
7. Hepatitis A vaccine 12, 18 months; Part of country special groups
8. Hepatitis B vaccine birth; 1, 6 months; children, adolescents and risk groups
9. Haemophilus influenzae type b vaccine 2, 4, 6, 15 months; Part of country Special groups
10. Influenza 6 months to 8 years; >= 60 years; Special groups and natives
11. Inactivated polio vaccine 2, 4, 6, 15 months; Part of country special groups
12. Meningococcal AC >= 2 years; Part of country when indicated
13. Meningococcal C conjugate vaccine 2, 4, 6, 12 months; Part of country Special groups
14. Measles mumps and rubella vaccine 1-14 years (x2 doses)
15. Measles and rubella vaccine >20 years (x2); and CBAW
16. Oral polio vaccine 2, 4, 6, 15 months;
17. Pneumococcal conjugate vaccine 2, 4, 6, 12 months; Part of country special groups
18. Pneumococcal polysaccharide vaccine >= 2, >=5 years; Part of country special groups
19. Rabies vaccine when needed
20. Rotavirus vaccine 35, 97 days;
21. Tetanus and diphtheria toxoid for older children / adults &;7 years (x4)
22. Typhoid fever vaccine >=2 years(x3 doses); Special groups
23. Varicella vaccine 12, 14 months; Part of country special groups and natives
24. Yellow fever vaccine 9 months; 10 years; where indicated
Australia
1. Diphtheria and tetanus toxoid with acellular pertussis vaccine 15-17 years
2. Diphtheria and tetanus toxoid with acellular pertussis, HepB and IPV vaccine 2, 4, 6 months; Part of country
3. Hexavalent diphtheria, tetanus toxoid with acellular pertussis, Hib, hepatitis B and IPV vaccine 2, 4, 6 months;
4. Diphtheria and tetanus toxoid with acellular pertussis, and IPV vaccine 4 years
5. Hepatitis A vaccine 12-24, 18-24 months; Part of country Aboriginal and Torres Strait Islander children in high-risk areas
6. Hepatitis B vaccine birth; 2, 4, 6 months; 1, 10-13 years; Part of country
7. Haemophilus influenzae type b vaccine 2, 4, 6 months; 1 year; Part of country
8. HepB Haemophilus influenzae type b vaccine and Hepatitis B vaccine 2, 4, 12 months; Part of country
9. Human Papillomavirus vaccine 12-13 years; females
10. Influenza >= 65 years; Part of country Aboriginal and Torres Strait Islander people between 15-49 years and are medically at-risk and Aboriginal and Torres Strait Islander people of 50 years
11. Meningococcal C conjugate vaccine 1 year; Part of country
12. Measles mumps and rubella vaccine 1, 4 years
13. Pneumococcal conjugate vaccine 2, 4, 6 months
14. Pneumococcal polysaccharide vaccine 18-24 months; 15-49 years; >=50 years; Part of country Aboriginal and Torres Strait Islanders in high-risk areas
15. Rotavirus vaccine 2, 4, 6 months; Part of country 3rd dose is dependent on the vaccine brand used (chosen by State or Territory)
16. Varicella vaccine 18 months, 10-13 years; Part of country