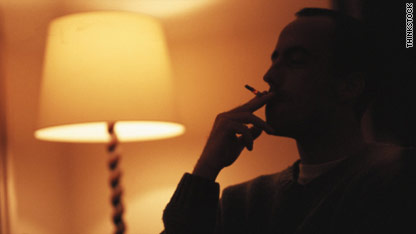 Apartment buildings should be smoke-free zones just like workplaces, restaurants and bars. That's what a new study suggests, which researchers say, for the first time, documents how secondhand smoke can transfer from one apartment to another.
Scientists at the Roswell Park Cancer Institute (RPCI) in Buffalo, New York conducted a small study measuring air quality from 30 apartments in 11 different buildings. "This study suggests that individuals who live in apartment buildings are particularly susceptible to secondhand smoke exposure in their homes." says Brian King in a press release. He is with the Department of Health Behavior at RPCI.
The study authors believe establishing a smoke-free zone is the most effective way to "protect apartment residents and their visitors from exposure" because tobacco smoke can leak out of a smoker's home through doorways and the ventilation system.
Lung cancer from secondhand smoke kills about 3,400 adult nonsmokers each year, according to the Centers for Disease Control and Prevention (CDC). The agency also estimates that 46,000 heart disease deaths each year are the result of nonsmoking adults being exposed to cigarette smoke.  Also, nearly 40 percent of children are exposed to secondhand smoke, according to the American Academy of Pediatrics (AAP).
Efforts to restrict smoking in apartment buildings are not new.  Recent efforts in California and Washington have not led to an overall ban.  Smokers on the other hand, believe they should be able to smoke in their homes, even if that should be in an apartment.