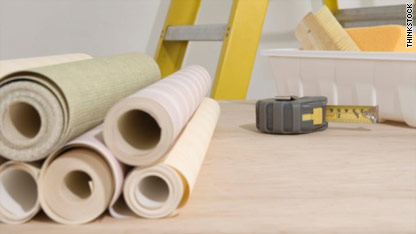 A new study of flooring and wallpaper products turned up lead, cadmium and other potentially dangerous chemicals, according to healthystuff.org, which conducted what the non-profit billed as the largest-ever study of chemicals in home improvement products.
Healthystuff tested 1,016 flooring products and 2,312 types of wallpaper. In addition to lead and cadmium, Healthystuff found phthalates, a type of chemical last year banned in children's toys above minute levels.
"We know from research that chemicals are emitted from these products and contribute to overall exposure," said Jeff Gearhart, research director at Healthystuff.
No federal standards exist for lead, cadmium or phthalates in home improvement products, said Scott Wolfson, spokesman for the Consumer Product Safety Commission (CPSC).
Three-quarters of ceramic tile samples tested contained lead, with levels as high as 1,900 parts per million. By comparison, the CPSC standard for lead in children's products is 300 parts per million.
"I am particularly concerned about tile because these do tend to wear over time.  This would tend to create dust particles with lead in them," Gearhart said in an e-mail.
Lead affects the central nervous system, kidneys and reproductive systems. No level of lead exposure is considered safe.
Vinyl flooring contained one or more hazardous chemicals 15 percent the time, compared with 8 percent of non-vinyl flooring, according to Healthystuff, a project of the Ecology Center, an environmental group.
Linoleum, cork, bamboo and hardwood all tested free of lead and cadmium, according to Healthystuff. Carpet was not tested.
A test of four "representative" vinyl flooring samples found four of the six phthalates severely restricted in children's toys, with levels as high as 84,000 parts per million – 84 times what's allowed in toys.
Phthalates are called plasticizers because they make plastic more flexible and resilient.
"There have been a lot of studies looking at phthalates in the indoor environment. There's been a constant correlation with higher incidents of asthma. A recent study showed a correlation with autism," Gearhart said.
"These guys have no proof at all. It's all speculative links," said Allen Blakey, a spokesman for the Vinyl Institute, a trade group.
Blakey added that the CSPC in 2003 concluded that PVC toys containing phthalates did not pose a health risk to children. Congress overrode the agency by passing the Consumer Product Safety Improvement Act of 2008, imposing the phthalate ban.
Among wallpapers, more than half contained one or more hazardous chemicals. One in eight contained cadmium levels over 100 parts per million.
Blakey said cadmium and lead were not used in any U.S. made products but acknowledged they were sometimes contaminants in imports. He added that the levels Healthystuff found were very small.
The U.S. Department of Health and Human Services considers cadmium "a known carcinogen." Cadmium can also damage the lungs and long-term exposure may cause kidney damage.
Calls and e-mails to  the Wallcoverings Association late Monday afternoon were not immediately returned.
Healthystuff tested the wallpapers and floorings using a X-ray fluorescence (XRF) analyzer, which the group says measures chemicals at or close to the surface.