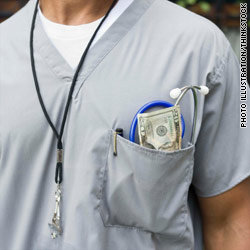 There has long been mystery surrounding how much, and to whom, drug companies give money.
Now, ProPublica has put together all of these disclosures that have been appearing recently on the Web. The resulting project, called Dollars for Docs reveals that about $258 million worth of compensation from seven companies went to health care providers in 2009 and 2010.
The team of investigative journalists found that 17,700 providers received such payments. Most of the money went to physicians, but nurses and pharmacists were also included, ProPublica said. The reasons for this money included speaking, consulting, business travel and meals.
More than 380 doctors received at least $100,000 from drug companies, according to the research.
You can look up your doctor in ProPublica's database to see if he or she received any of this money. It's not necessarily bad if money was paid, but it may raise some ethical issues, the website said.
The dark side becomes apparent in this article, which reflects an investigation revealing "hundreds of doctors on company payrolls who had been accused of professional misconduct, were disciplined by state boards or lacked credentials as researchers or specialists."