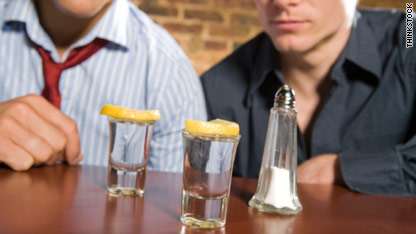 Dopamine released in the brain after alcohol consumption may contribute to the development of alcoholism and explain why more men than women are alcoholics, suggests a study published in the journal Biological Psychiatry.
The small study examined 21 participants, men and women ages 21 to 27, over two days. The participants were all "social drinkers" with an established tolerance for alcohol. Half of the participants were given a drink containing the equivalent of three shots of vodka and the rest were given a placebo. The drinks were adjusted to the various heights and weights of the participants so that everyone received a comparable amount of alcohol. Neither group was aware of what they were drinking and the groups were switched on the second day of testing.
After having a drink, each participant was given a PET scan to measure how much dopamine the alcohol had triggered to be released in the brain.
"We showed definitively that when young college age kids drink alcohol, it's actually producing dopamine in the brain, especially in the brain region associated with experiencing pleasure and reward," explains Dr. Nina Urban, an assistant professor of psychiatry at Columbia University and corresponding author of the study.
The study found that the release of dopamine in the male participants was statistically greater than the release of dopamine in the female participants. Nationally, the risk of men developing alcohol use disorders is nearly twice as high as in women.
The study also found that most of the released dopamine was concentrated in an area of the brain known as the ventral striatum. That region involves rewarding behaviors and is often implicated in the development of addiction. That led researchers to hypothesize that in the male brain, drinking alcohol led to a greater amount of dopamine being released, which led men to associate alcohol with pleasure and positive rewards, thus prompting men to drink more.
"We don't know all men will become addicts but we do know the incidence of alcoholism is higher in men then women," says Dr. Anissa Abi-Dargham, senior author of the study. "Dopamine may be related to the propensity of developing addiction."
However, the researchers also found that once drinking alcohol becomes a habit, dopamine is no longer released in the brain as much, if at all.  That suggests that when a person becomes a fully developed alcoholic, they may be hard-wired to continue their compulsive behavior, according to the researchers.
"Dopamine is important in the beginning when you're exposed to the drug," explains Dr. Abi-Dargham. But once someone becomes addicted, "the same amount of the drug [alcohol] is somehow less rewarding yet there is a compulsive need to go back and consume it."