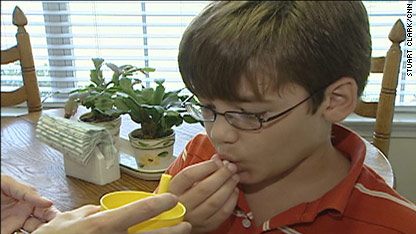 The Food and Drug Administration is cracking down on companies who advertise over-the-counter (OTC) chelation products to treat a range of diseases.  The agency warned eight companies to stop marketing these products because they are not approved and violate federal law.
Chelation  is a recognized therapy for lead, iron and other heavy metal poisonings.  "These products are not meant to be marketed over the counter at all," Dr. Michael Levy, the FDA's director of New Drugs and Labeling Compliance said. "The only FDA approved products are marketed by prescription and under the guidance of a physician."
Companies that don't comply could have their products seized or face criminal sanctions.
OTC chelation products, often sold over the Internet, claim to treat a number of diseases including autism, heart disease, Parkinson's and Alzheimer's.
Chelation therapy, even when done under medical supervision can be very dangerous.  When these products are used improperly they can cause serious harm including dehydration, kidney failure and death. The agency says while some of these products are marketed as dietary supplements, they are unapproved drugs and dangerously misleading.  Any chelation therapy that is marketed over the counter is suspect, they said.
It's been widely reported that many parents of children with autism give their kids these drugs thinking it will reverse their autism by removing any mercury that's in their body from vaccines.  Levy says, "none of the chelation products are approved for autism."  He adds "we do not have evidence right now that they are safe and effective for that use."
The FDA says they are not even sure what's in some of these products, but internet marketing has increased.  They come in a range of forms including capsules, liquid drops, sprays, suppositories, even clay baths.  The agency is warning consumers to avoid all non-prescription chelation products.