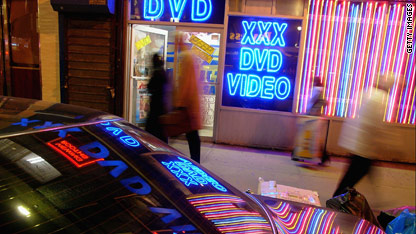 An HIV/AIDS organization is calling for the suspension of all pornography production in Southern California after an adult film actor tested positive for the virus.
All filming should stop, said president Michael Weinstein, president of AIDS Healthcare Foundation. "We're quite concerned, because while a number of companies have expressed they are going to shut down production, there are many more that has indicated they will not shut down production."

A health clinic based in Sherman Oaks, California, reported the positive test result last week.
"At this time, it is impossible to know if the patient acquired the HIV virus from private conduct or on-camera activity," according to a press release from the Adult Industry Medical Healthcare Foundation. "The industry is behaving responsibly and cautiously, as it always has, by placing a moratorium on filming any person one or two generations removed from sexual contact with the current patient."
The gender of the patient could not be revealed because of patient confidentiality rules, said Jeffrey J. Douglas, one of the lawyers for AIM Healthcare.
"There is no information at this moment when the infection was acquired," he said. "For the same reasons, nor is there any indication that there has been a transmission."
AIM is a community health service provider in which most of their patients work in the adult film industry.
Production companies and sexual partners of the patient have been notified, Douglas said.
The Los Angeles Times first reported the story earlier this week.
Wicked Pictures was one of the adult film company that stopped production following the test result.
"We had two productions that were scheduled to shoot very soon, so we put them on hold for now. How long they are postponed will be determined by the info that is released from AIM. And while Wicked Pictures only shoots with condoms, we still don't want to put any actor or actress in a position to work with someone that may prove to be on the quarantine list. With that said, we feel it is best to wait for AIM to finish their testing before resuming production."
Vivid Entertainment also halted production.
"When Vivid was first made aware that a performer had tested positive for HIV we immediately suspended production. We did this as a precaution and will continue to monitor the situation. AIM Healthcare acted appropriately to quarantine all adult talent who may have been exposed. We will wait for all of the facts to emerge before we resume production," the company stated.
The latest revelation has renewed criticism about unsafe sex practices in the porn industry.
"It is also living proof that testing is not adequate protection against HIV/AIDS and other sexually transmitted diseases among porn performers. How many more people have to be infected with HIV before Los Angeles County steps in to do its job and protect performers' and the public's health," said Weinstein in a statement.
The AIDS Healthcare Foundation has called for adult film actors to use condoms. Its stance is also supported by the American Medical Association. AIDS Healthcare Foundation has called for change in California law to mandate condom use in adult films and to require more safety training and testing for sexually transmitted diseases.
"Now is not the time to continue the porn industry's seriously flawed system of self-regulation—a system which has been demonstrated time and time again to be inadequate to protect performers from sexually-transmitted diseases," Weinstein said.
Douglas said many production companies already have stringent STD prevention programs in place, by testing their actors as much as every 28 days. Although the production varies region to region, no one is filmed without a clean bill of health, he said.
"The industry has done astonishingly good job of self-regulation," Douglas said. "Again the groups, private or government, that are so vociferous in attacks are irresponsible in attacks and have this rather pronounced personal interest."
In 2004, four actors tested positive for the virus that causes AIDS, also shutting down production in California.