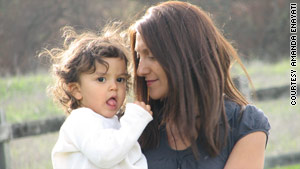 This week, Amanda Enayati shares the milestones of a life-altering journey that began the day she learned she had late-stage breast cancer more than three years ago.
Stanford Cancer Center, where I have been treated since I was diagnosed with Stage III breast cancer with a 9-centimeter tumor and spread to two lymph nodes in August 2007, is strictly high end. It has a mix of shiny golden blonde and medium brown wood floors, elegantly broken up by exquisite imported marble tiles and rich, patterned brown and caramel carpets. The lobby has high ceilings with large windows that let in a ton of natural light. The furniture is chic and understated in butters, tans, smoky oranges and bronzes. Expensive art hangs against large swaths of creamy white wall.
A shiny black grand piano graces the corner as you walk in. There's usually classical music playing, sometimes even a harp. Today, a female cellist plays a hopeful passage.
A few times a week masseuses come to give free massages to patients and family members. There are valets out front waiting to whisk your car away if you can't be bothered to park it yourself. I have heard horror stories about some of the other top cancer centers around the country, and I am truly grateful for all this cheer and opulence.
By the time I arrive at the Cancer Center for my six-month follow-up appointment, I have worked myself into such a state that I am literally shaking and can't make myself stop. It's as if I were standing in the middle of a snow bank in a bikini.
I was told at the very beginning of this surreal ordeal that I will be at high-risk of recurrence for the rest of my life. I am young. I am hopeful that the rest of my life will amount to a handful more decades, though each time I dare look them up, the five-year survival rates claim otherwise.
That year that diagnosis and chemo and radiation stole from me is still very fresh in my memories, even though two and a half years have passed.  These check-up appointments are damn-near torture.
As I stride through the lobby, no one looks at me twice. They assume I am a patient's child or relative but as soon as I walk to the counter to ask for blood work, people start giving me sideways glances. What is she doing here? I'm sure they're thinking.
I have to wait a long time to have my blood drawn. There's always a mix-up with the blood draw orders. I usually have to go back and forth to Clinic F to get the orders straightened out. Today I  have to go only once. The Clinic F receptionists recognize me. They all greet me warmly.
As I'm getting my blood drawn, I hear the middle-aged man in the seat next to me say: "This is not my favorite thing in the world."
Though I know he is not talking to me, I respond: "Not mine either. But it's the least of the devilry that goes on in this building."
I look over at him and he is nodding with his eyes closed.
I finish up and go back to Clinic F. As I am waiting to be seen, a note arrives on my Blackberry from a friend. Her girlfriend has been diagnosed with Stage III breast cancer. Thirty-six years old, with a baby and a toddler. Am I willing to talk to her? Of course I am.  I know that as time passes, I have become a symbol of the possibility of survival even in the face of late-stage cancer. I will call her and tell her everything. I will tell her to expect miracles.
I am ushered into the examination room. The nurse comes in. She is kind. She is solicitous. I am stressed and short and still shaking.
She does a breast exam. She listens to my lungs. She checks to see if my blood work results are in yet. They are not.
The doctor comes in. She greets me like an old friend too. She gives me a big hug. She doesn't yell at me for having missed the last check-up, for not having come in for over a year.
She conducts the same examination as the nurse except she does find something. In the left breast. The healthy one.
"It's eight inches from the nipple at one o'clock," she tells the nurse. "Come and feel it." My heart drops. I am about to throw up.
"We are going to have to scan it, just to keep track of it." I recall that they are very big on keeping track of things. They have been keeping track of a 2-millimeter nodule in my right lung since 2007 and an enlarged lymph node in my right arm pit since 2008. Add this one to the list.
"We have to scan it," the doctor says again. "Are you willing to have a mammogram?"
I shake my head no. We have had this argument before. "I'm mad at the mammogram," I say. How do you not pick up a 9-centimeter tumor and still retain your credibility?
"Young women's breasts are dense. Lobular cancer is the hardest to image," she offers up in defense of the mammogram. I shrug. I don't care. I am still mad at the mammogram.
"Will you do an ultrasound and an MRI? I think we can justify an MRI for the insurance company," she says.
I nod my head yes. My naturopath liked the ultrasound. I will check with him about an MRI. The doctor directs the nurse to write the orders.
"What does this new lump feel like?" I ask. "Does it feel like cancer?"
She feels it again. And then again.
"Does it feel like something I should worry about?" I am not going to drop it. I now know that the doctors often can tell right away. They might not tell you for liability reasons or for emotional reasons or for whatever reason, but the good ones know. And this particular doctor is really good.
"No," she says finally, "it doesn't. I think it feels fibrocystic. We have to scan it to make sure. I would tell you if it was suspicious."
I feel a rush of gratitude. I focus on her face for the first time. This doctor is as beautiful as she is brilliant.  She has the face of an angel.
I realize in that moment how very odd they both must think I am: fidgety, shaky, awkward, avoiding eye contact. I feel suddenly self-conscious. I smile a little too widely. I thank them both a little too profusely.
My blood work has still not come in. The nurse tells me to go home, that she will call me the next day to let me know how the results look.
I tell her thank you, but I will be sitting right out there in the waiting room until the results arrive. And I would like a hard copy. And thank you again.
She slumps a little. I think that surely I must be exhausting. But I am not sorry. Studies show difficult patients live longer. I plan to continue to be difficult.
Once, when I was in the middle of my six weeks of daily radiation doses, after I had already established that I would not be changing into the hideous hospital smock for my radiation procedure each day and that they should be happy I was showing up at all, I was bounding down the stairs (with an unusual vigor that I thank my naturopath for) to the cancer center's basement level, which is home to the radiology department. As I was skipping down the hall, I rounded a corner and nearly collided with my radiation oncologist, a young woman roughly my age who had the legs of a hardcore runner.
She looked me up and down with a smile and said: "You don't look like you belong here." I smiled back and thought to myself: "That's because I don't."
This is not my world. You don't own me and I don't belong here. I belong to the lush green world, filled with grass and trees and flowers. I belong to rolling hills and mountains and rivers and oceans. I belong to fresh air and soft warm wind. I belong to Beethoven and Chopin and Corinne Bailey Rae and James Taylor and Simon and Garfunkel and Stevie Wonder. I belong to the scents of lavender and jasmine and honeysuckle. I belong to hours-long, leisurely bike rides with stops for lunch or to read under a tree. I belong to watermelons and cherries and Satsuma mandarins. I belong to the "Matrix" and "Star Wars" and "Star Trek" and all manners of random science fiction movies. I belong to Charles Dickens and Chimamanda Adichie and Sir Arthur Conan Doyle and Maya Angelou and JRR Tolkien and Jhumpa Lahiri and every one of the Bronte sisters. I belong to Tehran and Shiraz and Den Brielle, to London, Paris and Edinburgh and Capri and Cape Town, to Washington, D.C., and New York. I belong to my girl and my boy and my husband. I belong to all my beloved. I belong to myself.
Tomorrow: A new lump
Amanda Enayati's work has appeared in Salon, the Washington Post, Detroit News, and "Let Me Tell You Where I've Been: New Writing by Women of the Iranian Diaspora" (University of Arkansas Press). You can follow her on Twitter @AmandaEnayati or her daily blog, practicalmagicforbeginners.com.