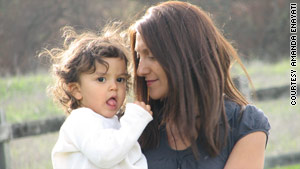 This week, Amanda Enayati shares the milestones of a life-altering journey that began the day she learned she had late-stage breast cancer more than three years ago.
Stanford Cancer Center, where I have been treated since I was diagnosed with Stage III breast cancer with a 9-centimeter tumor and spread to two lymph nodes in August 2007, is strictly high end. It has a mix of shiny golden blonde and medium brown wood floors, elegantly broken up by exquisite imported marble tiles and rich, patterned brown and caramel carpets. The lobby has high ceilings with large windows that let in a ton of natural light. The furniture is chic and understated in butters, tans, smoky oranges and bronzes. Expensive art hangs against large swaths of creamy white wall.
A shiny black grand piano graces the corner as you walk in. There's usually classical music playing, sometimes even a harp. Today, a female cellist plays a hopeful passage.
A few times a week masseuses come to give free massages to patients and family members. There are valets out front waiting to whisk your car away if you can't be bothered to park it yourself. I have heard horror stories about some of the other top cancer centers around the country, and I am truly grateful for all this cheer and opulence.
By the time I arrive at the Cancer Center for my six-month follow-up appointment, I have worked myself into such a state that I am literally shaking and can't make myself stop. It's as if I were standing in the middle of a snow bank in a bikini.
I was told at the very beginning of this surreal ordeal that I will be at high-risk of recurrence for the rest of my life. I am young. I am hopeful that the rest of my life will amount to a handful more decades, though each time I dare look them up, the five-year survival rates claim otherwise.