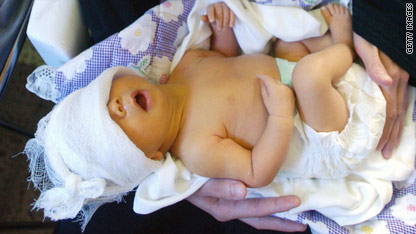 Full-term babies who develop jaundice have a 67 percent higher risk of developing autism, Danish researchers say,  a finding that contradicts a similar study published five years ago.
According to the  study published Monday in the journal Pediatrics, being born between October and March and not being the mother's first child further increases the risk for autism for children who develop jaundice.
"This paper does not say that jaundice causes autism," cautions Dr. Max Wiznitzer, a neurologist at Rainbow Babies & Children's Hospital in Cleveland, Ohio, who was not involved with the study.  He points to a 2005 Kaiser Permanente study conducted in Northern California, which also looked at a jaundice-autism link and concluded high bilirubin levels in newborns is not a risk factor for autism.
Jaundice is caused by higher levels of bilirubin, which is created in the process of breaking down old blood cells in the body.  If too much of this chemical builds up in a newborn's body, it can cause the skin and whites of the eyes to take on a yellowish tone.
While a baby is still in the womb, the mom's liver takes care of removing bilirubin.  Once the baby is born, its own liver has to take over the job.  "Most babies develop jaundice in the first few days after birth because it takes a few days for the baby's liver to get better at removing bilirubin," says the American Academy of Pediatrics (AAP).
"Jaundice is present to some degree in most newborns," according to the National Institutes of Health (NIH), but usually doesn't cause any problems and goes away within one to two weeks.
The Centers for Disease Control and Prevention (CDC) says, "About 60 percent of all babies have jaundice," but if it's untreated and the levels of bilirubin get very high,  it can lead to brain damage called kernicterus.
There are several types of autism classified as autism spectrum disorders (ASDs).  The cause is not known and there is no test for these disorders, which cause significant social, communication and behavioral difficulties.  The CDC estimates that 1 in 110 children in the United States have an ASD.
"Most likely autism is caused by a combination of genetic and environmental factors," says Alycia Halladay, Ph.D., the director of Research, Environmental Sciences for the advocacy group Autism Speaks. Halladay says the study authors have theories about the lack of sunlight in the winter months contributing to less vitamin D production and an accumulation of bilirubin.  She notes this new study does not say jaundice causes autism.  Still,Halladay says, jaundice could be a marker for autism.
"This could be something else that they [pediatricians] can watch out for," says Halladay.  She suggests doctors keep look ing for other warning signs for autism if a baby has had jaundice.  Early diagnosis of autism in children and early therapy has been shown to increase the chances of developmental improvement.
Wiznitzer says this study raises a lot of questions that still need to be answered.  Given the fact that this study comes to the opposite conclusion of the California study, he suggests that, "this needs to be reproduced in other parts of the world."  He says it needs to be determined if all full-term newborns with jaundice are at an increased risk for autism, or if there's something in Scandinavia that would not be a factor in other parts of the world.