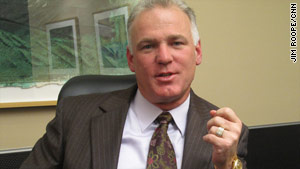 Employers across the nation are working to understand health care reform and its impact on their businesses.
Business owners in Los Angeles tell CNN's Jim Roope that the federal government has not done a very good job of reaching out to businesses to help them be in compliance.
"The first word I think of is uncertainty," said Michael Cusumano, managing director of Cusumano Real Estate Group. "On a daily basis we're worried about how to make payroll and how to survive in this economy."
Cusumano says the government is not very user-friendly in helping employers understand how the new regulations pertain to their particular business.
Jay Angoff, director of Health and Human Services' office of Consumer Information and Insurance Oversight, disagreed. "We have a new website, www.healthcare.gov which has gotten tremendous reviews," said Angoff. He said businesses don't have to do too much digging, just go to the website. His department is reaching out to businesses as well, he said.
Listen to the whole story here:

You can also listen to the CNN Radio Reports' podcast on iTunes or subscribe to the podcast here.