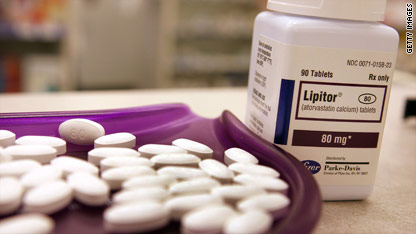 Pfizer has announced it recalled seven lots of its blockbuster cholesterol fighting drug Lipitor in August.  The recall,  in the U.S. and Canada, was due to reports of an "uncharacteristic odor related to the bottles in which the product is packaged," the company said in a statement.
A total of 191,000 bottles of Lipitor were recalled, according to Rick Chambers, a Pfizer spokesman, who provided a written statement to CNN.
When asked about the timing of the announcement, Chambers explained that the recall notice was posted on the FDA site on Thursday. In his statement, Chambers said the recall included, "three additional lots of atorvastatin [the generic name for Lipitor] that Pfizer supplied to a Canadian company."  He added, "All the lots were packaged in the same batch of bottles from a third-party supplier."
"Pfizer has been working closely with the bottle supplier to determine the cause of the odor problem and to rapidly address it. We don't anticipate a product shortage resulting from the recall."
"A medical risk assessment based on all the information we have has determined that the odor issue is not likely to cause adverse health consequences for patients," Chambers continued.
"We received three reports of odor problems during the month of July, which translates into a frequency rate of less than one report per one million bottles of product packaged."
"Pfizer will be actively monitoring the situation going forward to ensure patient safety," Chambers said.