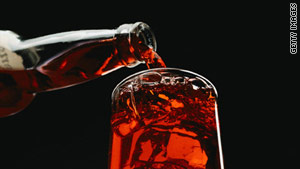 Take sugary drinks and soda out of items eligible for purchase through food stamps, New York officials said Thursday.
New York City Mayor Michael Bloomberg and Gov. David Paterson urged the U.S. Department of Agriculture to exclude sugar-sweetened beverages such as sodas and sports drinks from food stamp eligibility, because of their effects on obesity.  Under the New York proposal, city food stamp recipients would not be able to buy soda using food stamps for two years.
"This initiative will give New York families more money to spend on foods and drinks that provide real nourishment," Bloomberg said in a press release.
The Big Apple has been the vanguard in many health initiatives – banning trans fats in restaurants, proposing the end of smoking in outdoor public areas and requiring calorie counts on the menu. The Chart: New York tries to ban outdoor smoking
The city also released this graphic that showed how neighborhoods that had the most food stamp recipients reported that 32 to 45 percent of the residents drank more than one sugar-sweetened beverage a day and  experienced higher obesity rates.  New York's poorest households had 30 percent obesity compared with the wealthiest at 17 percent.  This trend also reflected in the rate of type 2 diabetes, which was higher in poor residents (14 percent) compared with the wealthiest at 7 percent.
"The use of Food Stamp benefits to support the purchase of sugar sweetened drinks not only contradicts the intent of this vital program, but it also subsidizes a serious public health epidemic," said Paterson in a statement.
"There is clear evidence that low-income individuals have higher rates of obesity and are more at risk of becoming obese than other groups. The serious chronic illnesses related to obesity – diabetes, cancer and heart disease – take a toll on our family, friends and neighbors, but also carry a cost that we all bear, as nearly half of the $147 billion spent nationally on treatment per year is paid by Medicaid and Medicare."
Obesity-related illness leads to  nearly $8 billion in medical costs annually for New York state residents, according to the press release.
The USDA runs the food stamp program, known as Supplemental Nutrition Assistance Program.  New York authorities say they seek to align the food stamps with USDA's rules for the national school lunch program and the Women, Infants and Children program which does not allow for the purchase of sugary drinks. WIC provides foods and nutrition education for low-income pregnant and mothers to children under the age of five.
Dr. Kelly Brownell, director of the Rudd Center for Food Policy and Obesity at Yale University said  excluding soda from food stamps program would not unfairly target the poor.
"Using government funds to pay for things that so clearly contribute to ill health does not make sense, particularly when government agencies, including the USDA, are struggling to address the nation's obesity problem." Read his statement here.