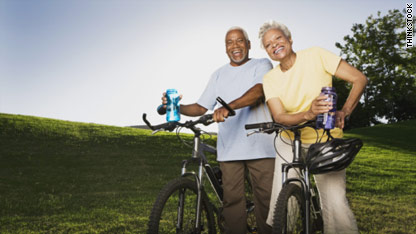 Church groups emphasizing the importance of exercise inspired formerly sedentary older African American women to get fit, according to a study published Thursday in the Journal of the American Geriatrics Society.
The "Sisters in Motion" study used a cornerstone of the African American community – faith – as a tool to promote physical activity among African American women, a group considered to be one of the least physically active in the U.S., according to Dr. O. Kenrik Duru, a primary care physician at University of California, Los Angeles and the study's lead researcher.
"Older African American women are very religious and spiritual. I think over 90 percent pray every day," said Duru, "When you're targeting community members like this, you want to focus on strengths."
Duru and his research team devised an eight-week, faith-based intervention program for 62 African-American women, age 60 or older, who reported engaging in 30 minutes of exercise less than three times per week.
One group of study participants attended group prayer meetings, read spiritual passages and exercised. These sessions stressed how spirituality relates to physical activity. A second (control) group exercised but did not attend faith services. Instead, they attended small group lectures on topics such as memory loss and identity.
Duru and colleagues followed up with participants six months after the study concluded and found a noticeable  increase in physical activity among women involved in the faith-based program. They walked about three miles more than the control group each week. They also had a marked decrease in their systolic blood pressure.
"A decrease in systolic blood pressure suggests there is a potential you could have a decrease of cardiovascular disease, of stroke, of kidney problems," said Duru. "We need to have a larger study with more people to confirm that but I think there's a strong suggestion that intervention could improve the outcomes."
Duru added that the results have the potential to create a shift in the public health paradigm of minorities and diseases.
"Integrating faith-based principles with the established evidence-based ideas is exciting field," said Duru. "That's something we need to consider given so many of the patients that we see do have a strong spiritual, religious background and that can be advantageous in terms of helping them achieve behavior change."