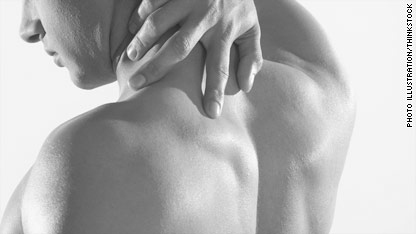 More than one in five adults in the U.S. have arthritis or other joint-damaging conditions, and the ongoing obesity epidemic may be partly to blame, according to a report issued Thursday by the Centers for Disease Control and Prevention (CDC).
Roughly 50 million U.S. adults have some form of arthritis, the report estimates. That number includes people with osteoarthritis, which is typically caused by aging, as well as those with other, less common conditions such as rheumatoid arthritis, gout, lupus, and fibromyalgia. Health.com: 10 food tips for pain patients

The report was based on a national survey conducted between 2007 and 2009. Overall, 9.4 percent of adults said that arthritis prevented them from doing everyday activities. That's up from 8.8 percent four years earlier – an increase that's outpacing forecasts made by CDC researchers in 2006.
Although the glut of aging baby boomers is most likely responsible for much of the increase in arthritis-related disability, researchers say that obesity also plays a role. More than two-thirds of Americans are now obese or overweight, according to the most recent government data.
"Any extra weight on the joint – it doesn't matter what kind of joint arthritis you have – is not good," says one of the report's authors, Jennifer Hootman, Ph.D., an epidemiologist in the CDC's arthritis program. "Extra weight adds stress, whether you have rheumatoid [arthritis] or gout or osteoarthritis."
Nearly 30 percent of the obese people in the survey had some form of arthritis, compared with just 20 percent of overweight people and 17 percent of normal-weight people. (Overweight and obesity are defined as having a body mass index above 25 and 30, respectively.) Among the most obese individuals, those with a body mass index of 40 or above, the arthritis rate was 38 percent. Health.com: Eat (yes, eat!) to lose weight

Overall, 45 percent of people who were obese said their arthritis limited their everyday activities, compared with 35 percent of normal-weight people.
"Being obese, having multiple chronic conditions, and low fitness and physical activity increase your risk for having activity limitations," Hootman says. "All of those things are probably contributing."
The CDC report highlights several other potential risk factors for arthritis. The condition is more prevalent among women (24 percent) than among men (18 percent), among people who live a sedentary lifestyle (24 percent) versus those who are physically active (18 percent), and among smokers (24 percent) versus nonsmokers (19 percent).
Public health officials expect arthritis rates to rise as the population continues to age. At just under 37 years, the median age in the U.S. is higher than ever before and is expected to increase through 2035, according to U.S. Census Bureau projections.
Not much can be done about those demographic trends. On the other hand, obesity and other factors that contribute to arthritis-related disability can – and should – be addressed by individuals and doctors, Hootman says. Health.com: Take control of your arthritis

"Activity limitation is preventable, and if you already have some limitation, that can be changed through exercise, physical therapy, appropriate medical management, [and] losing weight," she says. "We don't want people with arthritis who are currently limited in their activities to think it has to be that way. There are things they can do."
Copyright Health Magazine 2011