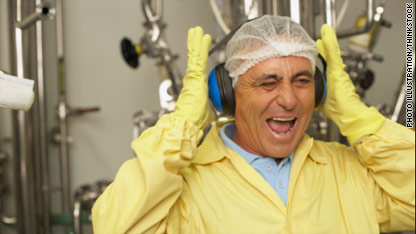 Workers in constantly noisy workplaces were two to three times more likely to have serious heart problems as their peers in quiet workplaces, new research shows.
The association between noise and heart problems such as angina, coronary artery disease, myocardial infarction, coronary heart disease was strong among workers under the age of 50, according to research published online in the Occupational and Environmental Medicine.
Researchers at the University of British Columbia in Vancouver, Canada, used data from 6,307 participants of the National Health and Nutrition Examination Survey and relied on their self-reported exposure to loud noise in the workplace. Of the sample size, 21.2 percent reported being exposed to chronic occupational noise.
"Chronic exposure to occupational noise is strongly associated with prevalence of CHD (coronary heart disease), especially for young male current smokers. This study suggests that excess noise exposure in the workplace is an important occupational health issue and deserves special attention," researchers wrote in the article.
In the United States, approximately 17.2 percent workers are exposed to occupation noise – and such persistent loud noise can annoy, cause hearing problems, sleep disturbances and psychological stress, according to an estimate from a previous study.
The authors of the latest study found "long-term exposure to self-reported loud noise in the workplace was associated with a nearly threefold increase in the prevalence of angina pectoris and a twofold increase in the prevalence of [coronary heart disease] and [isolated diastolic hypertension], respectively." But they did not find a substantial elevation in the level of blood lipids and circulating inflammatory mediators.
What's deemed as "loud" could be subjective, because the study is self-reported.
Also, the study did not take into account other occupational or environmental factors that are associated with cardiovascular diseases such as shift work and physical workload, noise exposure from road traffic, air pollution. All these factors could affect the estimates in the study, the authors wrote.