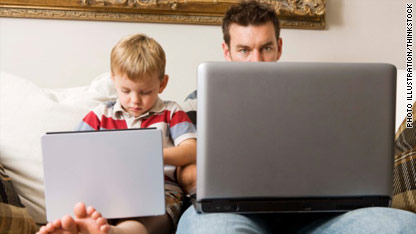 Warm laptops could leave behind unsightly skin spots for some users.
Take the case reported in this week's journal of Pediatrics concerning a 12-year-old boy who had lesions on his left upper leg.
The young patient played computer games for several hours a day by propping his laptop computer on his upper leg.  The boy told his doctors at the dermatology department at the University Hospital Basel in Basel, Switzerland, that he felt the computer becoming hot on the left side. Dr. Andreas W. Arnold, the lead author and a dermatologist said having the battery or heat source on one side of the computer could leave the brown pigmentation on his skin.
The boy had what is known as erythema ab igne - a temporary discoloration of the skin after extended exposure to a heat or infrared source such as a heating pad. This type of skin condition, known as dermatosis, has been found in people who worked in front of open fires or coal stoves, used hot pads and blankets extensively or sat too closely to steam radiators or space heaters.
Prior to this case, nine other patients have been reported with laptop-induced dermatosis since 2004. This most recent case described in Pediatrics is the youngest of the 10 documented cases.
A laptop computer could heat up to 111 degrees Fahrenheit, which won't burn skin, but can produce the discoloration.
The mechanism of how erythema occurs is not well understood, Arnold said.
"If you perform a biopsy, you see the epidermis changes," he said.  "It has to be in the upper dermis too.  We don't know the exact mechanism, but it probably has to do with blood vessel or inflammation."
People who get this skin discoloration usually don't have any symptoms – although a few have reported itchiness or tingles. The discoloration takes months or even years to fade – it largely depends on the individual, Arnold said.  It fades quicker for children, he added.
To avoid laptop burns, Arnold's suggestion is intuitive.
"Put a pillow beneath the lap, legs or the computer back," he said. "The clothes is probably not enough – the heat goes through.  You have to cover your legs with something which covers from the heat."