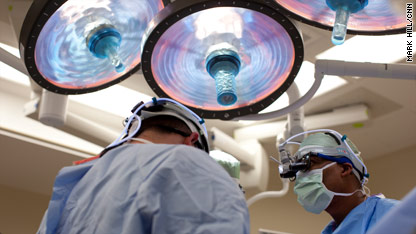 Surgeons at Ohio State University have removed a woman's gallbladder through her birth canal, becoming one of the first in the country to do this kind of groundbreaking surgery. The 42-year old woman was part of a clinical trial comparing laparascopic and transvaginal surgery. The surgery took less than 90 minutes and the patient was released within a few hours. Laparoscopic surgery is considered a minimally invasive procedure, unlike transvaginal surgery where an incision is made inside the vagina.
"In the past we would make about a six-inch cut into a patient's abdomen to remove their gallbladder. This was not only more painful, but took longer to heal and carried higher risk for infections," said Dr. Vimal Narula, the Ohio State surgeon who did the procedure. "Because we're working in the birth canal, which as good blood supply, things heal faster, leading to less overall pain and less post-operative discomfort."
Narula says there are fewer nerve endings in the vagina, which means less pain. No incision is made during the surgery; instead, surgeons made a tiny hole in the vaginal wall, then used small instruments to remove the gallbladder. Since 2006 Ohio State surgeons have done more than 120 surgeries using endoscopic cameras and remote controlled surgical tools. More procedures using natural openings like the mouth or vagina are being considered as surgeons look for ways to minimize trauma and infection.