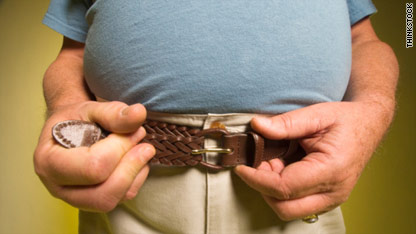 Researchers have found that fat in different parts of the body grows differently, and despite the prevailing belief that the number of fat cells in the body remains constant in adults, the study finds that the number of fat cells in the lower body actually increases in number with weight gain, while weight gain in the abdomen causes fat cells to grow in size.
The findings represent "a breakthrough" in understanding how our bodies produce fat, according to lead study author Dr. Michael D. Jensen of the Mayo Clinic Endocrine Research Unit.
Researchers recruited 28 adults for the study -  15 men and 13 women, all without any health problems and of normal weight. The subjects' body fat and fat cell size was measured before the study and again after eight weeks of overeating, using fat biopsies, according to Jensen.
Eating a diet that included giant candy bars, ice cream shakes, and high calorie nutritional drinks, the participants gained an average of about 5.5 pounds of upper body fat and 3.3 pounds of lower body fat.
"The dogma had been that the number of fat cells in the body remained constant, although some of my colleagues believed that wasn't true, " said Jensen.  "The accumulation of abdominal fat happens largely by individual cells expanding in size, while with fat gain in the femoral or lower body, it's the number of fat cells that increases. So, different mechanism, different impact."
Different factors influence how our bodies gain fat, according to Jensen.  "A large part of fat gain is genetic and hormonal but environmental factors such as alcohol intake, smoking, and being inactive," can increase the amount of belly fat that accumulates on our bodies.
Increased abdominal fat is one of the risk factors for metabolic syndrome, according to the American Heart Association. The dangers of metabolic syndrome include increased heart disease risk, stroke, and type two diabetes. The AHA estimates that over 50 million Americans have metabolic syndrome.
Dr. Jensen says the next step is conduct further studies to better understand the genetics of how fat cells in two different areas behave so differently. He stressed "people need to understand that it's not bad news if they gain more lower body fat and the number of fat cells grow" because the lower body fat is not as unhealthy as abdominal fat.