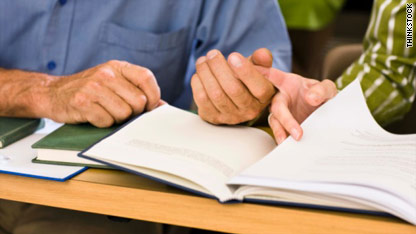 A study published Monday found that  Parkinson's disease patients who scored worst on movement tests and those suffering from dementia or psychotic episodes such as hallucinations all faced a higher risk of dying earlier from the disease.
Tremors by themselves were not a risk factor, and neither anti-psychotic nor anti-Parkinson's drug treatments affected survival, research published in the current issue of the  journal Neurology concluded.
The 12-year Norwegian study looked at 230 Parkinson's patients, 211 of whom had died by the end of the research.
"Remarkably, time of death for these people took anywhere from two to 37 years from diagnosis, so it's important we try to identify those risk factors that lead to an early death so we can find ways to increase a person's life expectancy," lead researcher Dr. Elin Bjelland Forsaa said in a statement.
Patients in the study lived an average of 16 years with Parkinson's. The average age at death was 80 for men and 82 for women.
The cause of Parkinson's is not known, and there is no cure. People develop Parkinson's when clusters of cells in the midbrain die, cutting down production of dopamine, a neurotransmitter responsible for coordinated muscle movement.
As a result, unmedicated Parkinson's patients tend to have muscle rigidity, lack of facial expression, a stooped posture, halting gait and tremors.
Doctors are only able to treat Parkinson's symptoms, usually by replacing dopamine with the drug L-dopa. No treatments currently exist to slow the progression of the disease.
"Our findings suggest that treatments to prevent or delay the progression of movement problems, psychosis and dementia in people with Parkinson's could help people live longer," said Forsaa at Stavanger University Hospital in Stavanger, Norway.
Dr. David Charles, a neurologist at Vanderbilt University Medical Center and chief medical officer at Vanderbilt Neuroscience Isntitute, said the finding that anti-psychotic medications did not affect mortality in Parkinson's patients would mean doctors would be less hesitant to prescribe them. Anti-psychotic medications have been associated with increased mortality in Alzheimer's patients.
An estimated 1 million Americans have Parkinson's disease. Some 50,000 Americans learn they have the disease each year, most over 50 years old.
Neurology is published by the American Academy of Neurology.