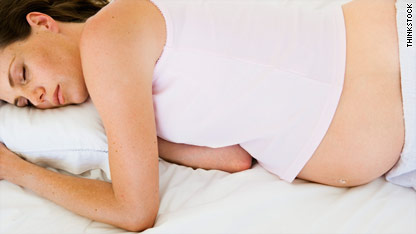 Pregnant women who get too much or too little sleep early in their pregnancy could develop elevated blood pressure in their third trimester, according to a new study published in the journal Sleep.
About 1,300 healthy, pregnant women participated in the study, thought to be the first to look at a link between insufficient sleep and blood pressure in pregnant women.
Researchers found women in the early stages of pregnancy typically get nine hours of sleep. But women who slept six hours or less and those who slept more than 10 hours a night had elevated blood pressure levels, the study shows.
Researchers also found a link between the amount of sleep and preeclampsia, a condition that usually occurs in the late second or third trimester and is characterized by high blood pressure and protein in the urine.
"If our results are confirmed by other studies, the findings may motivate increased efforts aimed at exploring lifestyle approaches, particularly improved sleep habits, to lower preeclampsia risk," said principal investigator and lead author Dr. Michelle A. Williams, professor of epidemiology in the School of Public Health at the University of Washington and co-director of the Center for Perinatal Studies at Swedish Medical Center in Seattle, Washington.
Not much is known about how insufficient sleep contributes to complications during pregnancy because most sleep studies don't include pregnant women, Williams notes. And she thinks that should change.
In the meantime, Williams advises pregnant women and those planning pregnancies to try to have a consistent sleep schedule, a relaxing bedtime routine and to limit eating to two to three hours before bedtime.  She also strongly encourages them to exercise regularly during the day, to avoid alcohol and caffeine before sleeping and she tells smokers to quit.