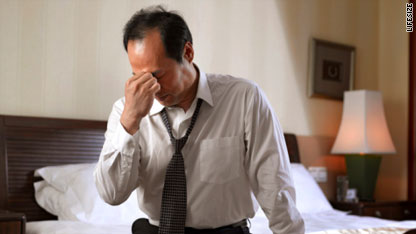 Nine percent of U.S. adults have at least some symptoms of depression, and people in certain states are more likely to be depressed than those in others, according to the results of a nationwide survey by the Centers for Disease Control and Prevention.
Mississippi had the highest depression rate in the nation, with 14.8 percent of residents reporting two or more symptoms of the condition, such as feeling hopeless, taking little interest or pleasure in everyday activities, and having trouble concentrating. Health.com: How to recognize the symptoms of depression
Other states at the top of the list included West Virginia (14.3 percent), Alabama (13 percent), Oklahoma (11.3 percent), Tennessee (11 percent), and Louisiana (10.8 percent), according to the survey, which was conducted in 2006 and 2008.  See state map.
North Dakota, with 4.8 percent, had the lowest rate of depression symptoms in the nation.  See the report.
Many of the states with high depression rates also have above-average rates of obesity, heart disease, and other chronic health conditions—which may not be a coincidence, says Lela McKnight-Eily, a clinical psychologist and epidemiologist at the CDC.
"Depression can both precipitate and exacerbate the symptoms of a chronic disease," McKnight-Eily says. "For example, if someone is depressed and they have diabetes, they may be less likely to stick to their treatment regimen in terms of their insulin and eating appropriately. Those things are definitely linked."
Relatively high poverty levels and lack of access to mental health care may also have contributed to the depression rates in some Southeastern states, she adds.
Overall, 3.4 percent of the survey respondents met the criteria for clinical depression, which is defined as experiencing five or more depressive symptoms on most days of the week.
The rates of clinical depression varied widely according to life circumstances. People who were divorced (6.6 percent) or never married (4.1 percent) were more likely to be clinically depressed than married people (2.2 percent), for instance.
Not surprisingly—given the economic nosedive that was under way in 2008—depression rates also appeared to be linked to job status.
Roughly 10 percent of unemployed people and 22 percent of people who were disabled or otherwise unable to work met the criteria for clinical depression, compared with just 2 percent of those who had a job. And the depression rate was roughly twice as high among people without health insurance as it was among insured people. Health.com: Depression in the workplace: Don't ask, don't tell?
"Depression is common," McKnight-Eily says. "But more importantly, it's very treatable. Seeking out the care of a health professional is really important, because life quality can improve with effective treatment."
October 7 is National Depression Screening Day. The CDC urges people who suspect they may be depressed to take an online self-assessment at mentalhealthscreening.org.