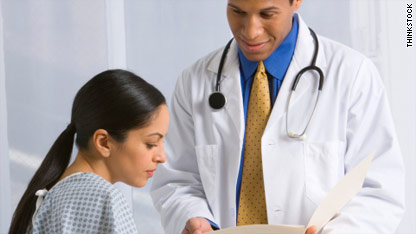 South Asians have more than twice the risk  of  a major cardiac event after a kidney transplant compared with other selected populations, according to a study published Thursday.  And the lack of information about the unique cardiovascular health risks confronting South Asians may be resulting in preventable heart disease.
Dr. Ramesh Prasad, a nephrologist, or kidney disease specialist, noticed that his South Asian patients (descended from the Indian subcontinent) who got kidney transplants appeared to have many more heart attacks than patients of other ethnic groups.
"My biggest fear was that South Asian patients were having more heart attacks after a transplant simply because the phenomenon was unrecognized by doctors," said Prasad, the study's lead author.
Prasad tracked more than 800 Canadians of all ethnicities — 139 of whom were South Asian — who received a kidney transplant at St. Michael's Hospital in Toronto from 1998 to 2008. He collected lifestyle and health data about the patients and examined the rates of major cardiac events – defined as a heart attack, cardiac arrest, or need for an angioplasty.
Even when controlling for cardiovascular health risk factors, such as high blood pressure or smoking, the study - published in the Clinical Journal of the American Society of Nephrology - found 4.4 out of 100 South Asians who received kidney transplants died after a major cardiac event one year after the surgery. The numbers for other groups – 1.3 out of 100 deaths among Caucasians and Africans and 1.16 deaths among East Asian patients – clearly show the increased risk for South Asians.
"I think this speaks really to awareness," said Dr. Milan Gupta, a cardiologist at McMaster University in Toronto, who was not involved with the study. "The more we understand ethnic differences the more we need researchers to understand how to design better studies."
Researchers often lump East Asians, South Asians and Pacific Islanders into one ethnic category, said Gupta. This can render the ethnicity data useless, as studies show East Asians generally are at a lower risk for heart disease than the general population.
Many medical databases are starting to collect this information. The United Network of Organ Sharing, which manages the United States organ transplant system, began differentiating between East Asians and South Asians in 2004.
However, researchers need more data to understand the root causes of heart disease in South Asians.
"The current studies are very small and hard to make any real conclusions," Prasad said. "Until the work is done, we won't know these reasons."
Researchers like Prasad and Gupta ultimately see hope in highlighting the higher levels of heart disease in South Asians. "I don't want people to take away a fatalistic message," said Gupta. "If we can promote awareness...we can stem future health problems."