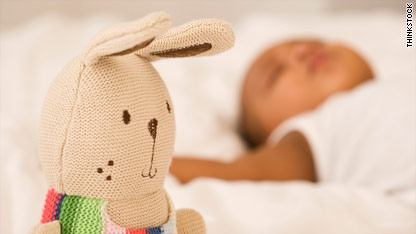 The U.S. Food and Drug Administration along with the Consumer Product Safety Commission on Wednesday warned parents to stop using infant sleep positioners. According to authorities, the devices, which were originally designed to help stabilize a baby to avoid acid reflux or "flat head syndrome," are being used by parents to protect their infants from SIDS.
The federal agencies revealed that over the past 13 years, CPSC and the FDA have received 12 reports of babies between the ages of one and four months of age, who became trapped and suffocated between a sleep positioner and the side of a crib or bassinet.
"Although these devices are being used in some cases to protect infants from SIDS, they've never been approved for that purpose nor have we found any evidence that they do this," said  Dr. Rachel Moon, chairman of the Sudden Infant Death Syndrome Task Force at the American Academy of Pediatrics
According to Inez Tenenbaum, Chairman of the CPSC, most of the infants suffocated after rolling over from their side to their stomachs. "We are very concerned about these devices," noted Tenebaum. "We are now working on new standards for cribs as we speak"
In addition to the reported deaths, the CPSC has received dozens of reports of infants who were placed on their backs or sides in sleep positioners, only to be found face down or dangerously lodged in the devices later.
The two main types of infant sleep positioners are flat mats with side bolsters or inclined (wedge) mats with side bolsters. Pictures of these devices can be found on the FDA's website.
"The deaths and dangerous situations resulting from the use of infant sleep positioners are a serious concern to CPSC," said Tenenbaum. "We urge parents and caregivers to take our warning seriously and stop using these sleep positioners, so that children can have a safer sleep."
Although the FDA stressed that this was not a recall, Dr. Joshua Sharfstein, principal deputy commissioner of the FDA, said, "We are anticipating that many manufacturers will pull their products."
"We feel, as of now, " according to Tenenbaum, " A public warning is the best way to handle this problem."