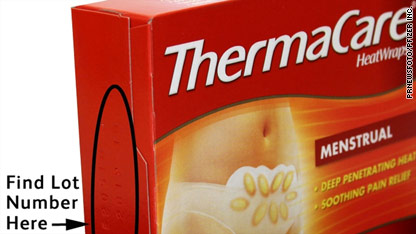 A single adverse event that caused a skin injury has led to the voluntary recall of 190,000 ThermaCare HeatWraps in the United States and Puerto Rico, Rick Goulart, a spokesman for the company tells CNN.
One person who had a leaking wrap suffered a skin injury, says Goulart, "so we decided to do the right thing" and issue the voluntary recall.  Goulart said he couldn't release more details citing privacy reasons.
According to a Pfizer press release, only ThermaCare HeatWraps Menstrual with the lot #E06831 and an expiration date of 8/2012 is being recalled.  Other lots or batches of menstrual heat wraps or any of the of the company's other five brands of heat wraps are not affected by this recall.
In the press statement, Pfizer says that it is taking this "precautionary step, after finding a potential for a leak of the components contained in the wrap, which could cause skin injury such as irritation or burn."
These heat wraps are placed on the skin and transfer heat to soothe sore or cramping muscles or tendons.
Consumers who have ThermaCare wraps at home should check the lot number located on the box and the foil pouch.  If they have a wrap from the recalled lot, they are urged to throw it away and call 1-800-323-3383 for a replacement.