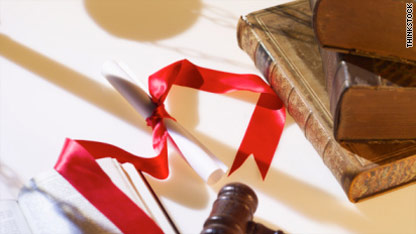 The word has rankled Sarah Palin. Using it landed Rahm Emanuel, the president's chief of staff, in hot water. And actress Jennifer Aniston got slammed by advocates for saying it in slang.
And now, it's a step closer to elimination from the federal government language.
The House of Representatives approved a bill that eliminates the use of the words "retarded" and "retardation" in health, education and labor laws.
The bill changes the terms from "mental retardation" to "intellectual disability" and "mentally retarded individual" to "individual with an intellectual disability." This shift would make it more consistent with the language already used by the Centers for Disease Control and Prevention, the United Nations, and the White House.
Rosa's Law passed in the Senate in August, and now heads to President Barack Obama's desk. The bill was proposed by Senator Barbara Mikulski, a Democrat from Maryland.
Rosa Marcellino is a girl from Edgewater, Maryland, who has Down syndrome. She had been labeled retarded by her school - a term that her mother does not permit her children to use, according to a news release from Mikulski's office.
"What you call people is how you treat them," her older brother, Nick Marcellino had said. "What you call my sister is how you will treat her. If you believe she's 'retarded,' it invites taunting, stigma. It invites bullying and it also invites the slammed doors of being treated with respect and dignity."
Advocates consider the term a stinging label that is outdated and stigmatizing.
"We understand that language plays a crucial role in how people with intellectual disabilities are perceived and treated in society," said Peter V. Berns, CEO of The Arc in a statement. "Changing how we talk about people with disabilities is a critical step in promoting and protecting their basic civil and human rights."
The Arc, which promotes and protects rights of people with intellectual and developmental disabilities, has been advocating the use of "intellectual disability."
"We strongly believe the only 'r-word' that should be used when referring to people with intellectual and developmental disabilities is 'Respect,'" according to the website.
The Arc of the United States originated as the National Association for Retarded Children and adopted its current name in 1992, dropping the term as "pejorative, derogatory and demeaning in usage."
The American Association on Intellectual and Developmental Disabilities, a professional association working with intellectual and developmental disabilities, also dropped the word "mental retardation" from its names and titles of two flagship journals.
"The language we use when talking about disabilities in general, and intellectual disabilities in particular, has changed over time," said Margaret A. Nygren, executive director and CEO of AAIDD in a statement. "These changes reflect a cultural shift in understanding that people with developmental and intellectual disabilities are entitled to the same dignity and human rights as every other member of society. The passage of the Rosa's Law legislation to use the term "intellectual disabilities" within federal education, health, and labor laws is likely to have a far reaching impact on the language used in our society."
But not everyone is embracing the shift. Critics say that changing the word is an act of political correctness, rather than any substantive change.
Christopher M. Fairman is a professor at the Moritz College of Law at Ohio State University and author of a book subtitled "Word Taboo and Protecting Our First Amendment Liberties" wrote in a Washington Post column earlier this year: "If interest groups want to pour resources into cleaning up unintentional insults, more power to them; we surely would benefit from greater kindness to one another. But we must not let "retard" go without a requiem. If the goal is to protect intellectually disabled individuals from put-downs and prejudice, it won't succeed. New words of insult will replace old ones."