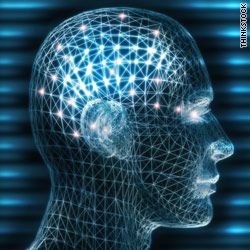 Some people have a hard time learning a new language; others find it baffling when someone imitates a foreign accent (here's how the stars do it).
Ping Li, of Pennsylvania State University's Brain, Language, and Computation Lab, wants to know what distinguishes someone who can easily pick up a new language from someone who struggles.  Research has shown that early exposure is key to mastering a second language, but scientists have lots of unanswered questions about how the brain learns a new language or dialect.
The two parts of the brain that are critical for language and speech development are called Broca's area and Wernicke's area (here's more on those).  Broca's area is involved in speech articulation and producing sounds, while Wernicke's area deals more with comprehension of words, Li said.  Recent research has also implicated nearby brain regions that include the parts of the temporal lobe for storing and retrieving meanings, the parietal lobe for for mediating speech and motor representation, and the angular gyrus for integrating different sources - for instance, understanding idioms.
It turns out that the language you speak does change the way your brain processes language, studies have shown.
Li's research has compared the brains of native English speakers and Chinese speakers who are bilingual in English.  The Chinese language does not differentiate verbs and nouns in the same way that English does, and some interesting brain patterns result from that distinction:
In native English speakers, the Broca's area appears to handle verbs and the Wernicke's area deals with nouns.  Chinese speakers who are bilingual from an early age show the same brain behavior, Li said.  But when presented with the same nouns and verbs in Chinese, the Chinese bilinguals do not show a difference between Broca's and Wernicke's area with nouns and verbs.  What's more, Chinese bilinguals who learned English in college do not show the noun-verb distinction in the brain when presented with English, even though their language ability is not necessarily worse.
Research has demonstrated numerous advantages to learning a new language beyond mere communication. People who are bilingual are better able to carry on two tasks at once, switching back and forth between activities more seamlessly and weeding out irrelevant information better. But here's the downside:  Languages can actually compete in your mind, and you may start forgetting some vocabulary of the language you use less.
And it pays to start early.  Research suggests that true native fluency in any language can only be gained in early childhood; some studies found that sensitivity to foreign accent goes down after age 1!  It's not impossible to learn a new language late in life, but it does get more difficult: a 40-year-old will have a harder time than a 20-year-old, says Grant Goodall of the University of California, San Diego. Here are some resources for computer-based language learning.
Very little is known about picking up a new accent specifically, Li said.  We recently wrote about foreign accent syndrome, but it's unclear whether the speech changes in this condition can truly be considered a "foreign accent," Li said.
Li speculates that perhaps people who are good at accent imitation – such as Steve Martin in "The Pink Panther" – may have better-developed parts of the brain that handle speech sounds, or that those areas have better connections to other brain regions.
"We can make some speculations as to whether people like Steve Martin have better abilities to process sound systems of languages," he said.