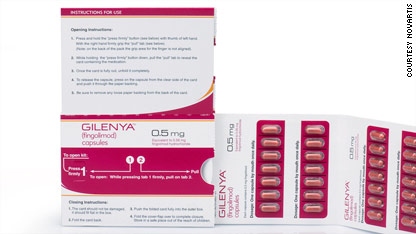 The Food and Drug Administration (FDA) has approved the first oral drug for treating relapsing-remitting multiple sclerosis (MS), the most common form of the disease.
Unlike current MS drugs, which are given by injections or infusion, this new drug, called Gilenya or fingolimod, comes in a capsule which is taken once a day.  Taking a pill is much less painful than having to stick a needle in your body on a daily, weekly or monthly basis, which is what many MS patients have to do now.   
"Gilenya is the first oral drug that can slow the progression of disability and reduce the frequency and severity of symptoms in MS," according to a statement by the FDA's director of the Division of Neurology Products Dr. Russell Katz.
Multiple Sclerosis affects about 2.5 million people worldwide, about 400,000 in the United States alone.  What causes MS is still not known.   It is a disease of the central nervous system considered where the body's immune system attacks the fatty layer that protects nerves in the brain, spine and eye.  As the fatty layer is destroyed, scar tissue forms which blocks the nerve signals and leads to a variety of symptoms including difficulty walking, vision problems and/or pain.
Gilenya is not an immunosuppressant, explains Dr. Nicholas LaRocca, Vice President of Health Care Delivery and Policy Research for the National Multiple Sclerosis Society.  Instead, he says, "it manipulates the immune system in a way that's beneficial for patients with MS."
According research presented by Novartis, the manufacturer of  Gilenya, this drug cut the relapse rate by 62 percent in newly diagnosed patients and by 44 percent in previously treated patients.
Taking a pill doesn't necessarily mean it's the safer says LaRocca. Like any drug, this one can cause possible side effects such as increased blood pressure, reduced lung function, eye toxicity, decreased heart function, and an increased risk of infection.   "We don't know for sure what's going to happen until the drug is on the market and it's been on the market a while and a large number of people have been treated with it," he says.  Patients should talk to their doctor to see if this drug is a viable option for them, say LaRocca.  He adds that some patients may just want to stay on the drugs they are on if they are working well for them.
Novartis is the manufacturer of Gilenya, and the company has promised to set up a program to monitor and educate patients taking the drug.  In June, an FDA advisory committee unanimously recommended approval for the drug Gilenya.  Back in January a series of clinical trials for Gilenya along with Cladribine proved successfull at reducing the rates of relapse and slowing the progression of disability.