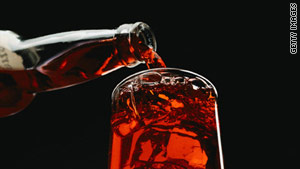 "Can too much caffeine make you insane – and mentally unstable enough to unknowingly kill someone?" This Just In blogger Mallory Simon of CNN.com, posed the question in her post about a buzzworthy murder defense.
A man's defense attorneys are expected to make the claim that too much soda, caffeine-laced diet pills and the energy drink No Fear combined with sleep deprivation, resulted in a "temporary psychotic disorder" and so, the defendant Woody Will Smith couldn't be criminally responsible for the murder of his wife.
Amanda Hornsby-Smith was strangled with an extension cord in 2009.
Having too much caffeine can produce an effect known as caffeine intoxication, said Daniel P. Evatt, a research fellow in the department of psychiatry at the Johns Hopkins University School of Medicine, who is not involved in the case.  Evatt researches the psychological effect of caffeine and spoke about this effect, but not as it relates to the criminal case.
"A lot of people use caffeine without any reported problems particularly when they're using in moderate doses," he said.
But if someone uses a lot of caffeine all at once, he or she could experience caffeine intoxication, which is included in the Diagnostic and Statistical Manual of Mental Disorders IV, which sets guidelines for psychiatric disorders.
Here's what DSM-IV says about caffeine intoxication:
-Recent consumption of caffeine, usually in excess of 250 milligrams (a 20-ounce bottle of Coke contains 57 milligrams)
-Demonstration of 5 or more of the following signs during or shortly after caffeine use: restlessness, nervousness, excitement, insomnia, flushed face, frequent urination, gastrointestinal disturbance, muscle twitching, rambling flow of thought and speech, tachycardia or cardiac arrhythmia, periods of inexhaustibility and psychomotor agitation.
-These symptoms cause significant distress or impairment, and are not caused by another mental disorder.
In rare circumstances, rambling thoughts or speech and hallucinations could occur to people who are already predisposed to it, Evatt said.
Some of the more severe symptoms of caffeine intoxication comes from having consumed about 800-1,000 milligrams of caffeine.  The tolerance to caffeine varies for individuals. While one person might suffer adverse reactions from too much caffeine from having just one energy drink another person may feel nothing from the same amount.
But caffeine intoxication is not usually severe enough to cause delusions or hinder decision-making capacity, Evatt said.