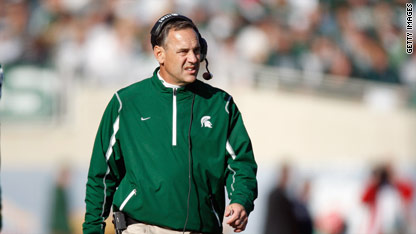 Could excitement – even a good kind of excitement – give you a heart attack?  The answer, some cardiologists say, is yes.
Saturday night, Michigan State football coach Mark Dantonio had a heart attack after he led his team to a trick-play overtime victory against Notre Dame.  He began experiencing chest discomfort shortly after the 34-31 victory, and went to Sparrow Hospital in Lansing, Michigan, early Sunday morning, where doctors opened up a  blocked blood vessel to his heart. His doctors say they expect him to make a full recovery.
Reporters asked Dantonio's physician, Dr. Chris D'Haem, whether such a close game could have triggered the heart attack.
"Certainly stress doesn't cause coronary heart disease, but as we all know, very emotionally or physically stressful events can be the trigger," he answered.
Here's what happens when you're under stress, whether it's good or bad. Your body releases hormones called catecholamines, including dopamine, norepinephrine, and epinephrine.
This Just In: Coach suffers heart attack after trick play in OT
The release of these hormones produce what's called the "fight or flight" response. It's a primitive and natural response to stress that allows us to, say, run away from an oncoming bear or fight an on approaching enemy.
"The surge causes stress on your heart," explains Dr. Sara Mobasseri, a preventive cardiologist at the Piedmont Heart Institute. "It makes your heart work harder and blood flow faster."
If someone has underlying cardiac disease, this stress may be too much for the heart, and cause a heart attack.  While usually the stress is bad, it doesn't have to be, Mobasseri says. "The catecholamine release can happen in happy circumstances," she says.
A study done of soccer fans during the 2006 World Cup competition in Germany found that viewing a stressful match more than doubled the risk of an acute cardiovascular event. "In view of this excess risk, particularly in men with known coronary heart disease, preventive measures are urgently needed," the study authors wrote in the New England Journal of Medicine.
Cardiologists warn that signs of a heart attack might not be what you expect. Sometimes it's the "Hollywood heart attack" where the victim clutches their chest and collapses, but other times the signs are more subtle, such as less dramatic chest discomfort, or nausea.
"It wasn't me clutching my throat or my chest and falling to the ground," said Duane Marcus, who suffered a heart attack. "It was a relatively minor pain that I kept expecting to go away, but it never did."  Here are more first-person accounts of what a heart attack feels like.